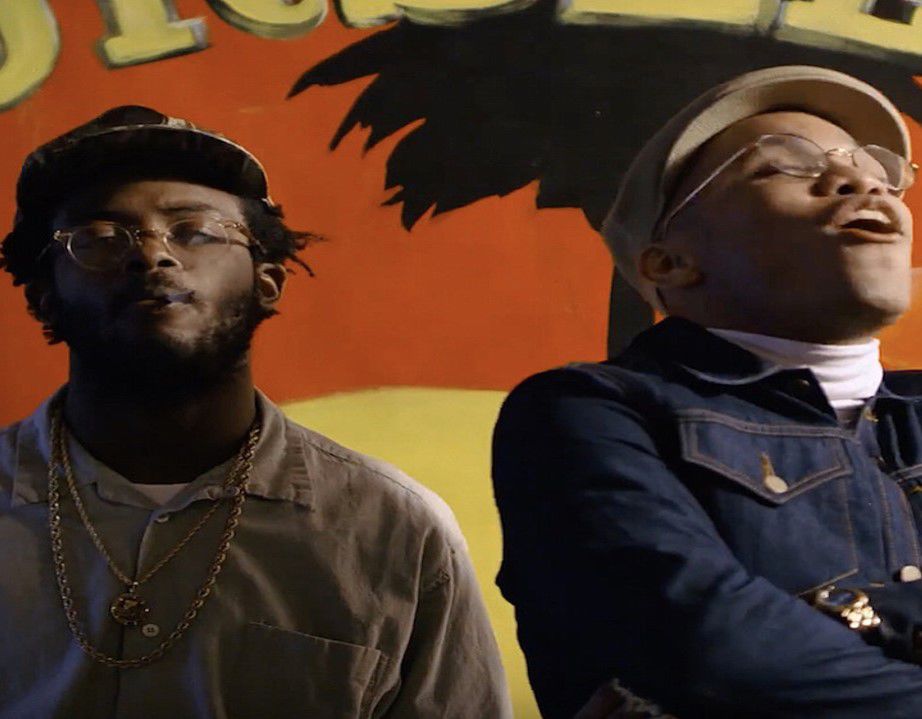 Each week Radio BurgerFuel features a newly released album that we feel is worth your ears via Spotify. With a wide scope of genres and artists we guarantee you'll find quality tunes, even if you have no idea who is featured some weeks. Trust me, daddy.

When Anderson .Paak and Knxwledge formed NxWorries, and went on to make 'Yes Lawd!', the world became a better place. The duo combine slick flows and masterful loops, producing an unrivalled piece of work. Fans of 'Yes Lawd!' will be happy to know that a remix of the album has been released, consisting of 12 tracks re-composed by Knxwledge himself. The album may have the same lyrical content, but musically its a whole different ball-game - something you've got to see for yourself.
Check us out on Spotify and follow the RBF: AOTW playlist to get your weekly new music fix.
RBF: Album of the Week
2017
20/11 - NxWorries - 'Yes Lawd! Remixes'
13/11 - Yung Lean - 'Stranger'
06/11 - Bibio - 'Phantom Brickworks'
30/10 - Weezer - 'Pacific Daydream'
10/10 - TOKiMONSTA - 'Lone Rogue'
26/09 - The Killers - 'Wonderful Wonderful'
19/09 - Foo Fighters - 'Silver And Gold'
12/09 - The National - 'Sleep Well Beast'
29/08 - Queens Of The Stone Age - 'Villains'
22/08 - Grizzly Bear - 'Painted Ruins'
15/08 - Rat Boy - 'SCUM'
01/08 - SWIDT - 'Stoneyhunga'
25/07 - Dizzee Rascal - 'Raskit'
18/07 - Sheer Mag - 'Need To Feel Your Love'
11/07 - BAIO - 'Man Of The World'
27/06 - King Gizzard & The Lizard Wizard - 'Murder Of The Universe'
20/06 - Royal Blood - 'How Did We Get So Dark'
13/06 - Rancid - 'Trouble Maker'
06/06 - Alt-J - 'Relaxer'
30/05 - The Heliocentrics - 'A World Of Masks'
23/05 - Nick Hakim - 'Green Twins'
16/05 - Foo Fighters - 'The Colour And The Shape'
09/05 - Polish Club - 'Alright Already'
01/05 - Gorillaz - 'Humanz'
18/04 - Kendrick Lamar - 'DAMN.'
11/04 - Future Islands - 'The Far Field'
21/03 - Spoon - 'Hot Thoughts'
14/03 - The Shins - 'Heartworms'
07/03 - Temples - 'Volcano'
29/02 - Thundercat - 'Drunk'
21/02 - Vant - 'Dumb Blood'
14/02 - Blur - 'Blur' (20th Anniversary)
07/02 - Sampha - 'Process'
31/01 - Japandroids - 'Near To The Wild Heart Of Life'
24/01 - The xx - 'I See You'
17/01 - Bonobo - 'Migration'
2016
20/12 - The Rolling Stones - 'Blue & Lonesome'
13/12 - J. Cole - '4 Your Eyez Only'
06/12 - Childish Gambino - 'Awaken, My Love!'
29/11 - The Weeknd - 'Starboy'
22/11 - Justice - 'Woman'
15/11 - A Tribe Called Quest - 'We Got It From Here… Thank You 4 Your Service'
08/11 - Common - 'Black America Again'
01/11 - NxWorries - 'Yes Lawd!'
25/10 - Jagwar Ma - 'Every Now & Then'
18/10 - The Naked & Famous - 'Simple Forms'
11/10 - Green Day - 'Revolution Radio'
04/10 - Bon Iver - '22, A Million'
27/09 - Mick Jenkins - 'The Healing Component'
20/09 - Mac Miller - 'The Divine Feminine'
13/09 - M.I.A. - 'A.I.M.'
30/08 - De La Soul - 'And The Anonymous Nobody'
23/09 - The Chills - 'Kaleidoscope World' + Bonus Tracks (re-issue 1989)
09/08 - Dinosaur Jnr. - 'Give A Glimpse Of What Yer Not'
02/08 - Clams Casino - '32 Levels'
26/07 - Aaradhna - 'Brown Girl'
19/07 - Jeff Beck - 'Loud Hailer'
12/07 - Schoolboy Q - 'Blank Face'
05/07 - Blood Orange - 'Freetown Sound'
28/06 - Broods - 'Conscious'
21/06 - Red Hot Chili Peppers - 'The Getaway'
14/06 - Nite Jewel - 'Liquid Cool'
07/06 - Opiuo - 'Omniversal'
31/05 - Yoko-Zuna - 'Luminols'
25/05 - Various Artists - 'Day Of The Dead'
17/05 - Jessy Lanza - 'Oh No'
10/05 - Skepta - 'Konnichiwa'
03/05 - King Gizzard & The Lizard Wizard - 'Nonagon Infinity'
22/04 - Bailey Wiley - 'S.O.M.M.'
18/04 - PJ Harvey - 'The Hope Six Demolition Project'
12/04 - Deftones - 'Gore'
05/04 - SBTRKT - 'Save Yourself'
29/03 - Lontalius - 'I'll Forget 17'
22/03 - Violent Soho - 'Waco'
15/03 - BJ The Chicago Kid - 'In My Mind'
08/03 - Miike Snow - 'iii'
01/03 - Santigold - '99c'
23/02 - Wolfmother - 'Victorius'
16/02 - DIIV - 'Is There Is Are'
09/02 - Rufus - 'Bloom'
02/02 - Artic Monkeys - 'Whatever People Say I Am, That's What I'm Not'
26/01 - Suede - 'Night Thoughts'
19/01 - Anderson Paak - 'Malibu'
14/01 - David Bowie - 'Blackstar'