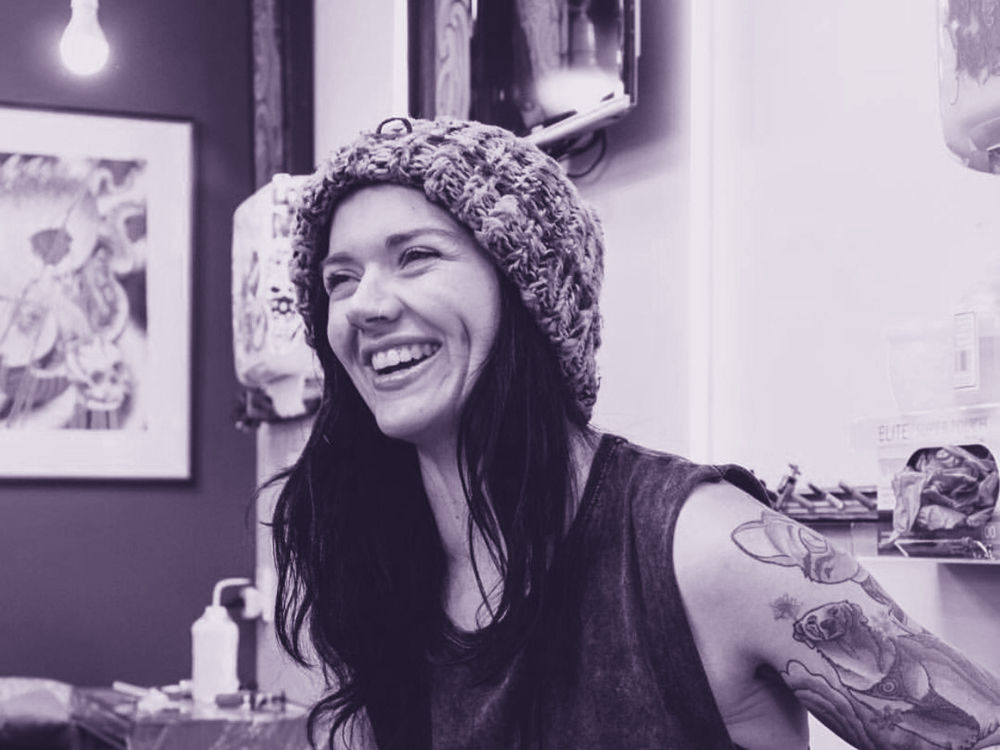 Posted by Creative, Sweet
We recently caught up with Beksi, a female tattooer from Christchurch, New Zealand to find out about her transition from painting to tatooing and how she juggles the many things going on her creative lifestyle.
Haser: Thanks for taking some time away from the needles to join us. For those that are seeing your work for the first time, can you tell us who you are and where you're from?
Beksi: Yeah of course, my pleasure! My name is Beksi and I'm from the little fun town of Christchurch, NZ.
Nice, I love ol Christchurch, there's so many amazing artists down there and so many awesome projects going on.
How did you get in to tattooing, did you do an apprenticeship and where did you do it?
Haha, I ended up becoming good friends with some people in the tattoo industry through art and graffiti. A few people put the idea in my head that I should do an apprenticeship and get into tattooing. To be perfectly honest I never thought I could and doubted myself for years. Luckily I have amazing friends who inspire me to do things out of my comfort zone. It turned out to be one of the best decisions I've ever made! I did my apprenticeship through Otautahi Tattoo Christchurch. The crew there are amazing and have supported me the whole way through.
That's awesome you managed to come up through a studio like Otautahi. I forgot you did a little graffiti. So, have you always been into art, or was there a particular moment that you realised you were good at it?
Good at it? Haha I'm not sure! I still have a long way to go. I've always drawn and painted for as long as I can remember. When I was young (around 10 or 11) I convinced my parents to let me do art classes after school once a week. I really just went there for the cookies.. but drawing all of the animals I had at the time was fun. The first time I sold a painting was pretty surreal, because I'd always just thought of art as a hobby and never considered it as a career. This wasn't for 11 or so years after I started drawing though, so it took awhile for me to get comfortable with putting a price on my work.
Haha, I only go to exhibitions for the free wine and cheese platters. Pricing art is a hard thing, especially if your entry to the art world is not to pursue an art career.
Have you managed to do any travelling on the back of tattooing?
Not with tattooing just yet. I do have plans though and would love to do this in the future! More tattoo expos as well, especially NZ ones.
Awesome, hope to see you in a booth at a tattoo convention in the near future. Is there anywhere you're hoping to travel to, whether it's for tattooing or just general travel?
So many places! But have to be realistic here haha. The UK has definitely been on my mind for awhile. My second mother, who taught me everything I know about tattooing has moved back there now. So catching up and doing some cool pieces on the other side of the world would be a dream come true.
I believe every artist should travel, the experience and networking is a crucial element to their progression.
Now, when I first came across your art, you were into illustrating and anime, is this something that is still in the works/background or something you'd like to incorporate back in to your work?
Oh wow! True, yeah definitely! I've always had a soft spot for anime. You will most likely find me at the local Armageddon or Comic-con dressed as some form of a badass character. I would love to bring more of this into my tattoo work at some stage, and definitely back into canvas work! So keep an eye out.
Armageddon always falls on Labour Weekend, so I've never made it but is certainly on my to do list.
Would you say tattooing is a full time gig for you at the moment?
I would love to say yes! But I totally have an outstanding amount of hobbies that are all completely unrelated, which makes life interesting sometimes. Finding time for everything can be a massive challenge! But I love it.
Oh wow, that's awesome that you can juggle so many things.
So what else do you do outside of tattooing, is there any extra curriculum activities going on or anything that helps fuel the creative juices or even get your mind off tattooing?
Where do I start! I still love painting! Actually, one of my goals for this year is to allow more time for this. Although, unfortunately with everything else it has been put aside for awhile. I also LOVE music and enjoy audio engineering and music production, recording, going to shows etc. Getting better at playing guitar is a goal of mine, so who knows? Maybe my next gig is performing! Haha. We'll see.
When I'm not tattooing or dreaming of being an influential musician, I'm most probably riding my little pony Eve, she's the cutest thing ever, or watching Game of Thrones while eating some Serious popcorn.
You really do have your plate full. Maybe we should do a Radio BurgerFuel interview next time.
Who is on your inspiration feed and what artists have inspired you along the way?
So many! There's hundreds of artists from many different areas that I love and have followed for a long time. Jeff Soto has always been a huge inspiration on the painting side of things. Sailor Jerry for traditional tattooing. Tilly Dee has beautiful trad colour tattoos which I love, Cherie Buttons for her stunning animated murals and canvases. Nessaaa_ who always has the most beautiful floral inspiration. And of course, Fleetwood Mac for helping to get me in my 'painting zone.'
Yes, they're all amazing, I know Cherie has recently transitioned into tattooing lately, I can't wait to see how she goes.
Where would you like to see yourself in the next 5 years?
Fully set up with tattooing and art, as well as a website and online shop etc. Clothing and apparel is in the works! In amongst everything else, I'd love to start recording some music too and potentially put together some sort of album. Many plans.
Many plans indeed, do you plan on getting any sleep? Best of luck with all that, we're looking forward to watching it all unfold.
I know you are quite young yourself but have you got any advice for younger/up and coming artists?
The best piece of advice I've ever been given, was to do something every day, no matter how small, just create something. Whether it is working on a drawing or doing something to help grow your art business or client base, it doesn't matter which. I've always had the problem of overthinking ideas and not even starting anything because I'm trying to choose from a million different things at once, instead of just doing it. So just do it!
Admirable and very true. Going back to your interest in music, what music is currently banging on ya playlist at the moment?
Ozzy and Black Sabbath (so sad he's cancelled his shows now!). Always love a bit of Lights too, who is a huge inspiration for me musically. Clutch, Bring Me The Horizon for some variation. I just bought a new Amy Winehouse record the other day! The Doors, A Star is Born soundtrack, Steve Miller Band, QUEEN. And of course NZ rock legends, STONEHURST, Left or Right, and Scrooge! And a whole lot of others!!!
And last but not least, your favourite burger from BurgerFuel?
The V8 Vegan with added avocado for sure!
The V8 Vegan is definitely the way of the future.
Thanks a lot for your time Beksi, if you would like to see more of Beksi's work you can follow her on the grams.