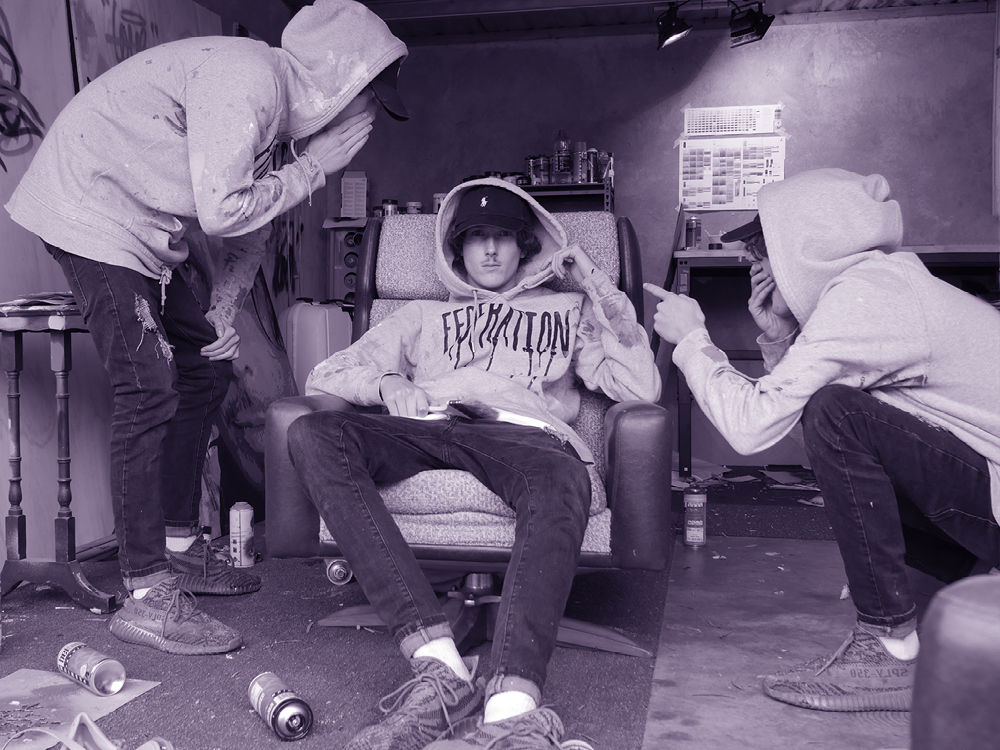 Posted by Creative, Sweet
I'm always blown away by the continuous emergence of young, inspirational and driven artists. One of those rising through the cracks is a young man from Christchurch. I recently met him in Melbourne earlier this year and wanted to know more about his story.
Haser: Thanks for taking the time to talk to us. For those that are seeing your work for the first time, can you tell us who you are and where you're from?
Distranged Design: Thanks for having me! My name is Jacob Root (Distranged Design) and I am a 20 year old stencil artist from Christchurch, NZ.
Nice to have you, I swear every artist I talk is getting younger and younger. You seem to have a pretty clear idea on what you're up to with your art, so how did you get into it?
I got into the art I do after seeing all the amazing street art in Los Angeles whilst on a family holiday in 2017. It gave me a massive push to further myself in the art scene and be able to work for myself, doing something I love.
Nice work, travelling always seems to be a huge turning point in most peoples careers which is why I always encourage it.
Was there a particular moment that you realised you were good at what you do?
Hmm, I think I started to realise that I could do it after people were really interested in buying my art and once I started getting a roll on of commission work.
Well done, very admirable. You have a really nice contrast within your work, how would you define your style, and where do you pull inspiration for your subject matter?
Thank you! With my style I always try to have the "street" look in the backgrounds, with an attractive women in the foreground to show the theme of "Light through the dark" and more messages about love, heartbreak and other everyday life issues depending on how I'm feeling at any point in time.
A lot of my inspiration comes from what I see around me, the intertwining of happiness and sadness, coming of age, passion, love and heartbreak. Also a lot of music, movies and documentaries can lead to my line of thoughts / ideas for making my paintings. Most people may not see the message I'm portraying in some of my paintings, but they're always there.
Nice, I really enjoy your process of layers and different mediums as well. I think it's important to leave a bit of that message to the viewers imagination as well. I find it hard to create a conversation with literal art, so don't feel bad if people don't always see what you're trying to say.
You mentioned you were inspired by your trip to LA, have you managed to do any travelling on the back of your art?
Sure have! I went back to LA for a month last year which was just great. I got to paint a couple of murals and also collaborate with a few artists.
Nice work.
I've also done a few different murals around NZ & then went to Melbourne for Can't Do Tomorrow festival.
Can't Do Tomorrow is also where I had the pleasure of meeting you earlier this year. How did you end up being a part of that event?
Good times! I was asked last year if I'd like to get involved and definitely couldn't turn down an opportunity like that.
I was pretty unclear on what to expect with Can't Do Tomorrow but was glad I also took up the opportunity, the event and the community there were amazing. Have you done anything like that before, or do you plan on doing anything else like that?
I've been involved in group shows before, and also curated one. But nothing has been close to the scale of CDT, that was just unreal! Yeah I'd love to do more things like that, I'm hoping to do a solo show out side of NZ once we can start traveling again.
I love exhibiting outside of my residence but I really dislike the hassle of getting my art from point A to point B.
COVID19 has really managed to bring a lot of things to a halt, but is there anywhere you were hoping to travel to in the near future, whether it's for painting or just general travel?
I am really keen to go and spend a few more months in LA, theres something about that city that really intrigues me and my creativity starts pumping there which is always good. Other than that I'd be keen to go back to Thailand or Bali to do some murals!
I know what you mean with LA, urban culture seems to run through that cities veins.
I know you are based in Christchurch, do you imagine yourself residing there for long or is there another city/country you are working towards?
I'm really keen to move away, I like Christchurch / NZ but I really like the hustle of much larger cities. I hope to move to LA when I can, but I think that will be a better plan when I'm 21 so I can meet new people easier.
Oh yes, I forget about the complexities of being an adult, but not quite adult enough for America.
I've talked to a lot of artists that seem to juggle the hustle of work and painting, but you've manage to focus on painting as your full-time gig, how have you found it?
Yeah, I've been painting full time for nearly 2 and a half years now, and am loving it. I've never really been that great at being told what to do / taking orders from people so the fact I get to do what I want on the daily and express myself freely is a blessing. I'm looking forward to doing a bit more outdoor work as you start to get in your own head a bit spending long days alone in a studio.
Congratulations, I decided to take that step 2 years ago and have wondered why I didn't do it sooner, but I think everything happens when it needs to.
Now, if money and time wasn't an issue, what would your dream project be?
Good question! I'd be really keen on designing a street art cafe / bar that brings new artists in from around the world to re-paint the walls each month! I feel like that would attract a big audience and would be great to see the new talent each month.
Awesome, I've thought about something like that as well. It'll be a good venture for LA since it never rains over there which means it can be an outdoor experience that eliminates the indoor fumes aspect.
What else do you do outside of painting, any extracurricular activities or anything that helps fuel the creative juices or even get your mind off painting?
I really enjoy skating, it's a great way to clear my head and just not think for the afternoon. I also spend most of my weekends with mates as it is good to be around people after being mainly alone painting throughout the week!
Yeah, isolating yourself is good for producing art, but maybe not so good for the social skills
Who is on your inspiration feed and what artists have inspired you along the way?
The most inspirational artists for me would be Banksy, Sniks, Triston Eaton and Alec Monopoly. I find their art so different to others and how far they've taken themselves with their passions.
Nice list, admittedly, I never heard any artist drop Banksy on their top list, which I always thought was quite interesting as he really is the worlds lead urban artist.
Where would you like to see yourself in the next 5 years?
I'd really love to be living somewhere beachy and doing my art full time still. I think the most important thing for 5 years from now though is happiness and telling my story through art to help others in the way I know how.
Nice, I admire that. I know you are quite young yourself but what advice would you give to your younger self?
I'd love to tell my younger self to really focus on things that are important to me not others.
What music is banging on ya playlist at the moment?
Ahh at the moment I've been listening to a lot of the new Juice WRLD album, Pop Smoke, The kid Laraoi and the Red Hot chilli peppers! Most of them get me in the zone whilst painting.
RIP Pop Smoke, and last but not least, your favourite burger from BurgerFuel?
It would have to be the Ford Freakout!
Thanks a lot for your time Jacob, if you would like to see more of Distranged Designs work you can follow him on the grams or visit his website here.