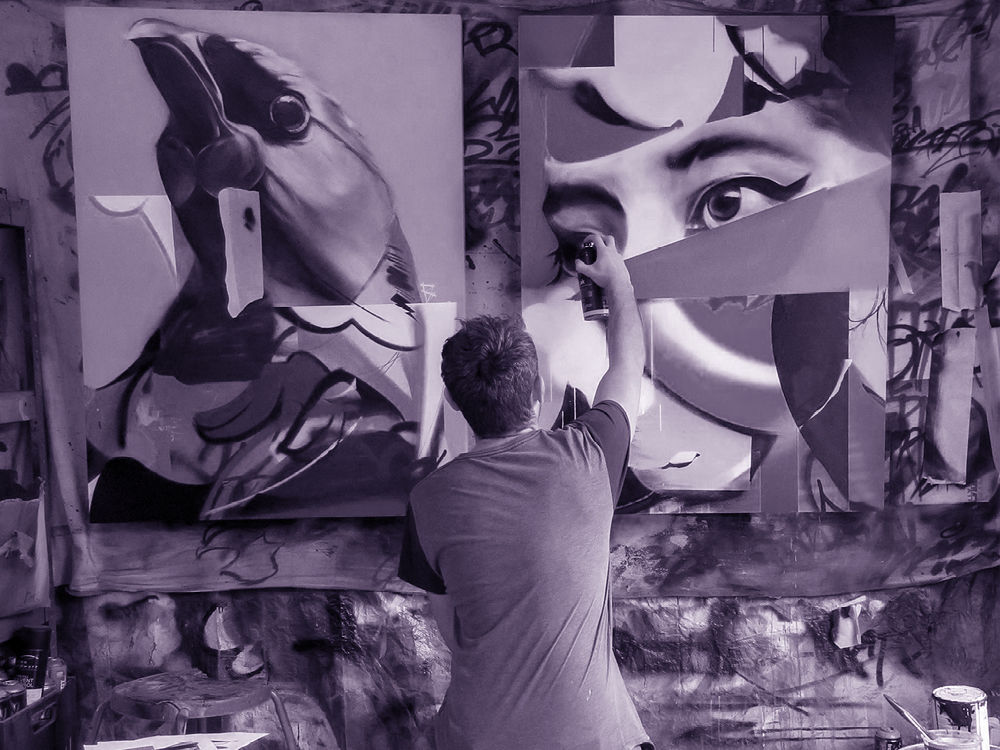 Posted by Creative, Sweet
One artist that is quickly rising through the ranks is a young man from Wellington, New Zealand. His highly detailed figurative works, complemented by bold graphics, abstract shapes and motifs, creating very striking works that work together in a very harmonious way.
Haser: In the 2 years that I've beed away, it seems someone lit a fire under the NZ street art scene, because there is so much talent coming through. One of those artists to really shine through is a young lad from Wellington. For those that are unfamiliar with your art, can you tell us who you are and where you're from?
Chimp: I'm Chimp, a 23 y/o artist based in Wellington, New Zealand. I grew up in a small town called Eastbourne in Lower Hutt.
Wow, 23 seems like a lifetime ago, make the most of these glory days, you'll go through them quicker than an Astro fat cap.
How did you get into the artwork you are doing now?
I've been drawing my whole life however my interest in painting developed when I began designing and painting graphics on to skateboards I was making and selling at age 13. From this, I began to experiment more, on a variety of different 'canvases' which lead me to where I am now.
Nice, I always enjoy following artists that stem from surfing and skating. Have you always been into art, or was there a particular moment that you realised you were good at it?
I've always been heavily interested in art as my Mum is a Graphic Designer so I have always had a creative influence in my life. My parents were both very supportive and pushed me to peruse what I enjoyed - which turned out to be art, and through pursuing this I was able to develop my style further.
That's awesome to have that support from the top, my dad is also an artist and I think it's reassuring to know someone close to you not only supports you, but has also been down the same path.
You have a really nice contrast within your work, how would you define your style?
I try to make my style and art present a mixture of figurative and abstract motifs. I aim to find the juxtaposed balance within my pieces between a harsh mix of organic and geometric shapes.
You've managed to do this really well, and where do you pull inspiration for your subject matter?
I find inspiration for my art in a lot of different things however I often get inspired by music, nature, other artists and general day to day life.
Nice work. Now, you don't look like the kind of person that wants to just make work in a studio, have you managed to do any travelling on the back of your art?
Last year was actually the first time I had done any proper travel, other than Australia. In April after collaborating on a project with Kathmandu, I travelled to Nepal and completed a trek to Everest Base Camp with the Himalayan Trust - a trip which artist, Sean Duffell, was also on which was a bonus! Following this at the end of last year, my partner and I spent 3 months living in the USA which we initially went over for a 6-week art residency in California with Street Artist in Residency. Finally, prior to the travel ban, I spent almost a month in Melbourne for the Can't do Tomorrow Festival.
Wow, that sounds like a busy year, I'd say if it wasn't for COVID19, that would have been an amazing platform for another year of travel. If COVID19 wasn't a thing, is there anywhere you were hoping to travel to in the near future, whether it's for painting or just general travel?
I was really keen on travelling to Europe and the UK at some point soon to do some work and spend some time possibly living over there, however that's all on hold at the moment until we see how COVID19 and the travel ban plays out.
I've just returned from the UK, and trust me, you're not missing out on anything at the moment, other than the good weather.
I had the pleasure of meeting you earlier this year in Melbourne at 'Can't Do Tomorrow' festival. How did you end up being a part of that event?
I was receiving some interest from 'Cant Do Tomorrow' on Instagram posts for an upcoming solo exhibition I was having in Christchurch last year, so once I had noticed that, I expressed my interest to participate to them and it went from there.
And have you done anything like that before, or do you plan on doing anything else like that?
I hadn't ever done an 'Art Fair' before and to be honest, it was quite the investment. I had some interest from clients in Melbourne after arriving back however with the timing of the pandemic nothing has been able to come to fruition yet so it's hard to gauge at this stage whether it would be something beneficial for me to invest in again.
I know you have been busy during the lockdown so I no doubt imagine you'll hit the ground running when they open the gates.
I know you are based in Lower Hutt, do you imagine yourself residing there for long or is there another city/country you are working towards?
I actually found Melbourne a really eye-opening, enticing and welcoming place for a young artist such as myself and it's definitely a place that I've seriously considered venturing back to in the future with the idea of possibly living there for a period of time.
I also found that Melbourne was a very accomodating spot for artists, so maybe we will cross paths there.
Is painting your full-time gig, and if so, how have you found it?
Painting is my full-time gig, I'm pretty self-motivated so when work is a little quiet it can be a nice break in between jobs to work on projects and new pieces and develop my style which I find often stimulates growth and the possibility of jobs.
Very admirable, it's aspiring to follow artists that have that drive, with or without jobs on. On that note, if money and time wasn't an issue, what would your dream project be?
I'd love to someday have the chance to bring the electric sports car idea /prototype that I designed and developed to fruition. The idea of a vehicle that's fully functional, in terms of space for someone like myself who transports a lot of paint and canvases, yet designed as a sports car and is electric and economical would be a dream to be able to complete.
Certainly not the answer I was expecting, but exactly the kinda answer I love to hear.
What else do you do outside of painting, any extracurricular activities or anything that helps fuel the creative juices or even get your mind off painting?
Downhill Skateboarding (longboarding) has always been a long-running hobby of mine since before I even started making boards myself. I find it a great escape to clear my mind and become re-motivated.
Who is on your inspiration feed and what artists have inspired you along the way?
A few artists that I find inspiring and really appreciate the work of are Pose MSK, Askew One, Etam Crew, Hueman, Shane Cotton, Low Bros and Helen Beard - to name a few!
Great list, a couple on there I don't know of, so will be sure to check them out.
Where would you like to see yourself in the next 5 years?
In the next 5 years, I really want to focus on developing my style and honing in on this. However, I'd also love to paint more overseas and hopefully find a more permanent studio to work out of.
Best of luck with that, hopefully we cross paths along the way. I know you are quite young yourself but have you got any advice for younger/up and coming artists?
When starting out, quantity over quality can be a good way to develop and find your unique style. If you can find a medium or subject that you are passionate about, the progression can be much faster and motivation easier to find.
Very true.
What music is banging on ya playlist at the moment?
I am really inspired by music and listen to a lot so to name a few of my favourites from my playlists would be Pink Floyd, Guilty Simpson, Radio Head, FKA twigs, Lil Ugly Mane, David Bowie, Jean Grae and Atmosphere.
Thanks, I'll be sure to add some of those to my playlist.
And last but not least, your favourite burger from BurgerFuel?
It would definitely have to be the American Muscle! I can't seem to not order that every time!
You're not alone there buddy.