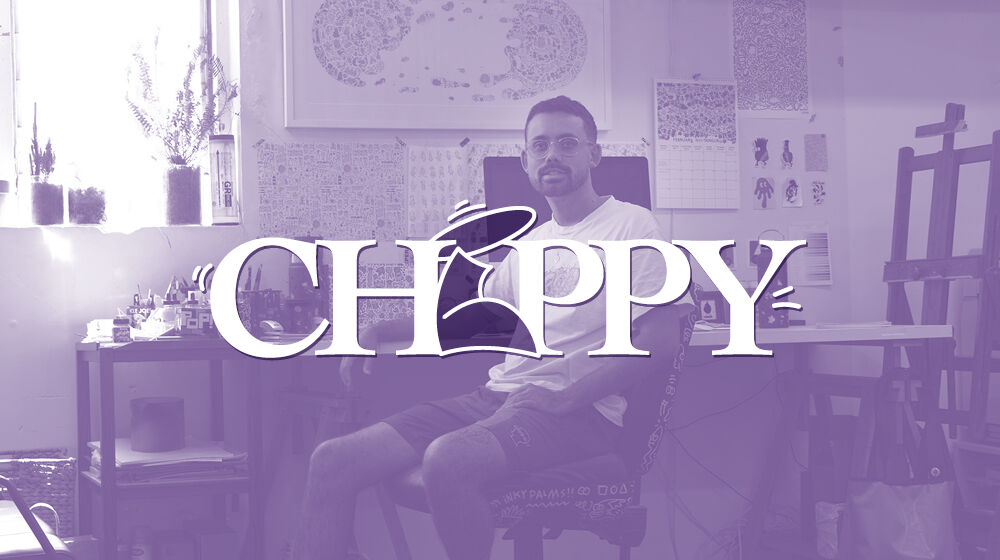 Posted by Creative, Sweet
Art can be a portal into someones mind and a way to see the world through their eyes. Our next guest has a very distinctive style, his works create an immersive world that allows our minds to take an unplanned vacation. We sat down with Chippy to hear about his journey as an artist and where he's heading in the future.
Haser: Thank you for joining us, for those that are first time observers of your work, can you tell us who you are and where you're from?
Chippy: My name is Chris Tainui Hutchinson and I make illustrations and artwork under the moniker 'Chippy'. I'm born and bred in Tāmaki Makaurau Auckland, Aotearoa New Zealand.
Tēnā koe, e hoa. Your body of work tells me you've been doing this for a long time, when did you start drawing, and what got you into it?
Yeah, I've been drawing since I was a kid which seems to be the case for most professional illustrators and I've been pursuing drawing as a career since I graduated from AUT in 2015.
When I was a teenager I used to spend a lot of my free time going to all ages gigs and hanging out in the local music scene. I don't have any musical skills so my only way to contribute to the scene was to help out designing posters, merchandise and EP covers for mates. My high school art teacher told me that I was doing something called 'graphic design' so I decided I would go and learn more about it at University and it all grew from there.
I think it's great to be the token artist friend during your formative years, it's kind of like an unofficial internship.
I always appreciate artists that are instantly recognisable, and you fall in to this category well. You have a very unique style of illustrating, what's the inspiration behind it?
I get inspiration from heaps of things - cartoons, comics, fruit, old school signage, lollies, soda, coffee, stickers, toys, flowers and googly eyes.
The best kind of inspiration.
Digital or analogue?
Both. I use whatever tool is necessary for the task at hand.
Where do you work from and what's an average day for you?
My studio on Karangahape Road where I've been for the past seven or so years now.
That's a decent stint.
After coffee and breakfast I head into the studio and work through whatever admin I have to do. After that I like to get any online shop orders I have packed and ready for the courier and then I tuck into whatever project I have on the go. That can vary from client work, to private artwork commissions through to personal projects. I usually wrap up work by 5pm and then I can go and hang out. In my opinion, if you want to freelance it's best to treat your practice like a job and keep your working hours as close to 9–5pm as possible.
Nice work, I tried to lock my self in my studio from sun up to sun down, but as you mentioned, it's a lot more productive to operate under the 9-5 structure. I think it's important to make sure you are handling life outside of your studio.
I'm a big fan of large scale works, I like the overwhelming aspect of it. I'd really like to see your works on a large scale, is this something you're working towards?
I would love to get involved with more large scale mural work. I've got a couple small walls under my belt but I would love to expand and learn to do something bigger. I do actually have something else large scale in the pipeline but that's all under wraps for the time being…
Sounds great
On that note, I know you do a lot of commission work, but are you doing anything for yourself at the moment?
Yeah at the moment I'm working on an ongoing project of collecting random objects from op-shops that I like and painting them up in my style. It's a nice way to experiment with painting on different materials, shapes and sizes. Examples of the things I've collected so far include a large rubber ducky, a concrete pear and a wooden tricycle. I'm a big believer in learning through doing and I also find painting things to be quite therapeutic.
Awesome, we can't wait to see it in it's entirety.
What artists are currently on your inspiration feed?
Sometimes the reality of being a creative sole trader can actually be quite an isolating practice.
Preach.
No lie, it's difficult and I've second guessed myself a million times. So a lot of my inspiration comes from my friends that are out there, in the same position pursuing their craft and making a living from their art.
There are so many but a select few are my partner Flora Reilly-Davis who makes amazing jewelry, designer and maker Eliav Meltzer, artist and concept illustrator Henry Christian-Slane, picture book illustrator Phoebe Morris and director/photographer Fraser Chatham along with my favourite paint slingers Marcus Watson, Finn-Gerry Wilson and James Hunt.
No doubt, I found being an artist can definitely feel like a solo journey, you're generally the token artist friend within your group, and it can be pretty hard to feed off the energy of your own four walls. My best asset in my artist journey is being a part of my graffiti collectives, It's a healthy competitive relationship that allows us to keep pushing forward.
I know a lot of creatives become inspired after travelling, before COVID 19 was a thing, were you able to get many stamps in your passport or are you hoping to head abroad at some point?
I was lucky enough to travel through Japan and South Korea a few years ago which was incredibly inspirational. Cartoons and animation are very present in everyday life over there and as you can imagine I was frothing over it! I collect toys and figurines so I was obsessed with gachapon while I was over there. I'm so keen to go back to Tokyo and Seoul at some point but for now I'm pretty happy to stay settled down in Aotearoa.
Awesome, South Korea is heavy on my to do list, but I definitely loved Japan. As you said, the cartoon and animation culture over there is embedded in to their every day living. I felt like I was living in a CMYK world over there, everything was so bright.
When art isn't at the forefront, what else do you do to occupy your time? And does that inspire the process or do you prefer to keep your art and life separate?
I love finding and listening to new music and going to gigs. I'm a nerd and enjoy reading fantasy books. Scouring op-shops for new objects to paint on. Getting out for nature walks, going for swims or just hanging with friends. To be honest though, one way or another most of my time is spent on my art practice - it's kind of a blessing and a curse that the line between my hobbies and my work has become blurry.
I know what you mean, it's a great problem to have though.
Since art is so embedded in your life, does that make it a full time hustle for you?
Yeah it has been for nearly a year now. Until recently I have always held down some kind of full or part time job. It takes time to build up the experience, portfolio and the confidence to go out on your own.
I thought it was impossible, but you start to figure it out pretty quickly when you take that leap.
Money seems to redline the stress meters, but if money wasn't an issue, what would be your dream gig?
Designing a theme park.
Hell yeah, #goals.
Speaking of goals, Where would you like to see yourself in the near and distant future?
I would like to see myself still working full time for myself and eventually expand to some international projects.
Kudos, I believe that's the most sustainable approach to being a long term artist.
Winding the clock back, what advice would you give your younger artist self?
I think that learning about the business side of working as a commercial artist is a reality you can't escape so learn how to do your taxes mate!
I have only just recently sorted my life out with IRD, I think I would be mentally healthier if someone explained the tax system to me when I was younger.
What tunes are headlining your playlist at the moment?
I'm enjoying the new Bonobo album and the two tracks released from the forthcoming Toro y Moi album.
I knew you were going to inform me about some artists that I'd never heard of, love it.
BurgerFuel has a large fleet of classic vehicles, what's your dream machine?
Family.
Best answer yet
Last but not least, favourite burger from the Fuel?
Bacon Backfire
Too legit to quit!