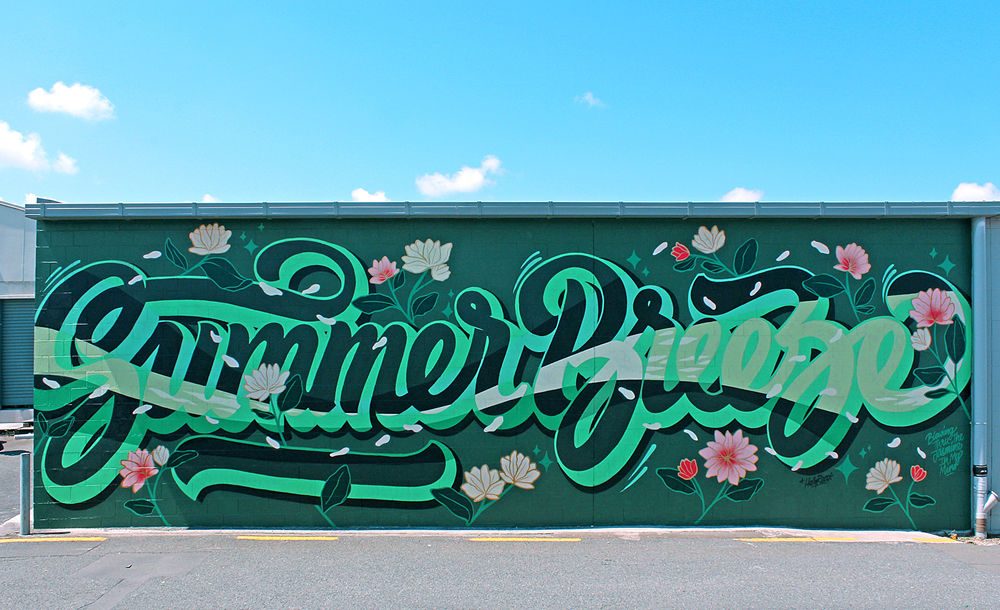 Posted by Creative, Sweet
It is no secret that we get behind the expressive world of graffiti and street art here at BurgerFuel. We managed to lure in Wellington based typographer Holly to hear about her journey as an artist and the transition from painting graffiti to becoming a local typographic heroine.
Haser: Thank you for joining us, for those that are first time observers of your work, can you tell us who you are and where you're from?
Holly: I'm Holly / Fluro, I'm an artist / designer originally from Christchurch, but currently living in Wellington. My art and design work is primarily type based and is influenced by graffiti, typography and sign writing. I also like to work with a variety of media and technology.
Christchurch and Wellington seem to breed all the creatives. It's quite uncommon to see female graffiti artists, how did you get into that?
I guess my introduction to graffiti has been a bit atypical, it started more with an interest in art at school. I would draw and decorate words in my yearbook and at the time I had some friends who were B-boys; they weren't writing graffiti as such, but were around the scene and interested in graffiti as a form of expression in hip hop culture, so they suggested I get into it. I started developing my lettering in a more graffiti style, but I really didn't understand a lot about the culture of writing and painting for a long time, so it's been kind of backward in some ways.
It's always interesting to hear how people get into it, I had a very similar introduction. Do you think graffiti was your gateway into typography?
For sure, or vice versa, when I was a kid I actually wanted to be a sign writer, although I didn't really understand what that meant, but it was through graffiti that I became really interested in hand-lettering and the art of sign-writing later on.
That's awesome, I love how everyone has a different journey to get to a similar place. Are there any artists or people out there that you think have a heavy influence on your work, and are there any artists/works that you just enjoy for the hell of it?
There's a lot, to be honest work ethic and thinking outside the box interest me and have an influence on me as much as actual aesthetic. I also tend to be more influenced by people's work once I've met them and know a bit more about their story, where they've come from and what it's taken for them to do what they do. Living with Askew1 and O'che, Kerb1 and Spex has also been a big influence on me, seeing their dedication to their work and to helping other people learn as well. Sean Duffell is also in that category. It's always a challenge to balance being inspired by other artists' work while maintaining originality or true self-expression. Written words and song lyrics influence the content of my work too.
Sounds like you have been fortunate to be around some amazing artists. I know you have a few stamps in your passport, are there any stand out places you have been to and people you have met? And how has the travel helped your career?
One of my favourite places is Barcelona, I've been there twice now and have been able to have a good look around. I had heaps of fun in Kuala Lumpur earlier last year too, I think that was more to do with the people I met and the painting spots than the actual city. My favourite places tend to be the ones which are a bit rugged and grimy and more lax with rules and health and safety. I've been really fortunate to meet some amazing people in most of the places I've been, I'm not the best at planning or organisation so having locals to hang out with and take me to cool spots has been invaluable. Travel and meeting people while travelling has been a big part of becoming more visible as an artist and and tends to lead to further opportunities.
Local artist tour guides are always the best, I always ask them to take me to their favourite food spot. With all this behind you, is there anywhere you are hoping to go in the future?
I'm definitely keen to keep travelling as much as possible, I'd like to travel South East Asia in the more immediate future, looks like a lot of dope spots to paint, good food, weather and I love the contrast of culture, tradition, old and new.
I gravitate towards Asia as well, I feel like graffiti is still young there so they still have the same passion that influenced me when I started. Would you say you are a full time creative and what do you think the pros and cons are of your day to day life as a creative?
I would reluctantly say I'm a full-time creative, I'm not necessarily where I'd like to be in terms of income or even the work I'm producing, but I am able to work on freelance work and my own projects most of the time.
I feel like the pros definitely outweigh the cons, I'm able to more or less use my time as I'd like to, for better or worse, and it's relatively easy for me to take time off to travel. Also, I have a lot more creative freedom and when I'm working on client work, I can deal with the client directly, rather than having to run it past an employer as well.
On the con side, I struggle with time-management and get overwhelmed with ideas sometimes. If I'm working on my own projects, I have to create briefs for myself to channel ideas. Lack of stable or predictable income is always a bit of a challenge as well.
Ahhh yes, the universal struggles of a creative, but it seems you are happy with your direction. Where would you like to see yourself as a creative in the future?
I'd really like to work on some larger, more involved projects and have the opportunity to put more time and effort into a few works, rather than just spending a little time on a lot. I definitely want to develop my skills a lot more. Working with light somehow and painting more big walls too. Also creating some typography based design products would be cool.
Very admirable, and last but not least, favourite burger from BurgerFuel?
Peanut Piston, even though it's not technically on the menu anymore?
We all feel that way, hopefully we see a return of the Jedi on that one day.
To see more of Holly's work and what she gets up to, follow her on Instagram @hollyrocck or visit her WEBSITE.