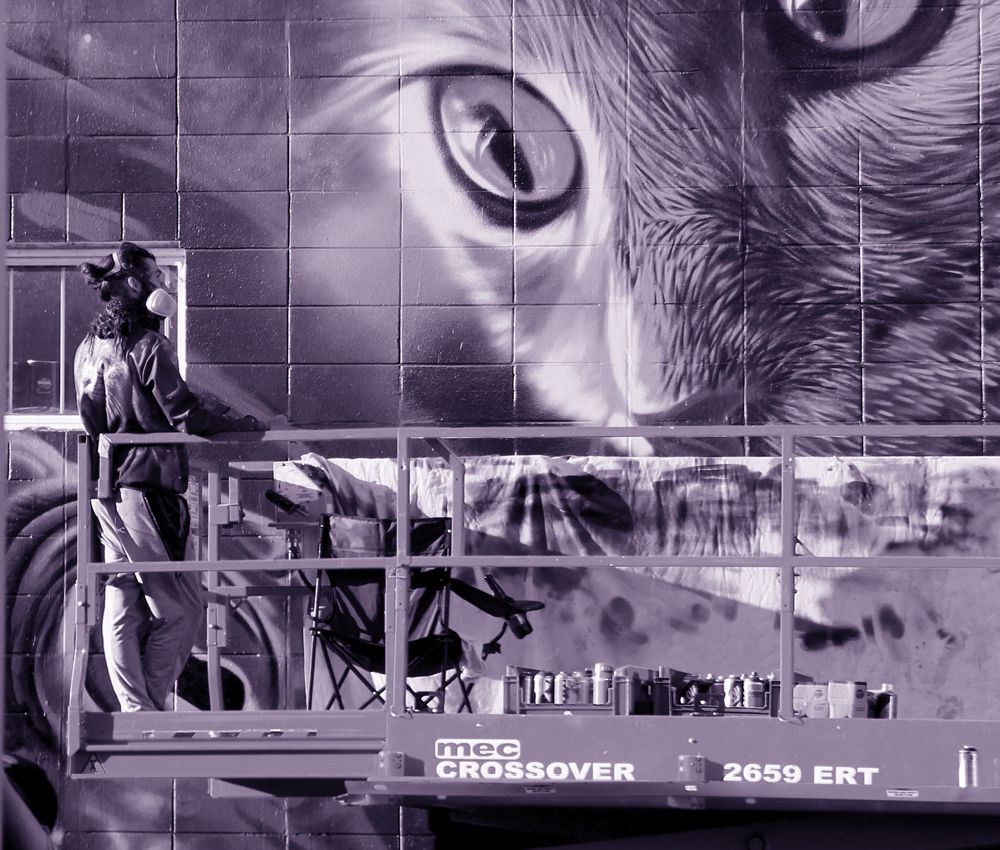 Posted by Creative, Sweet
In 2017, I found myself in Palmerston North, where I was invited to a street art event, "Beats, Bites and Brushes". This was the first time I had really spent time in Palmy and quickly realised I had been sleeping on some amazing talent. One of the artists that stood out to me was a quiet young man that was in charge of filming for the weekend. Although, once we got chatting, the rest of his talent begun to reveal itself. We catch up with the talented SWIFTMANTIS to find out how he has managed to make it work in a small town and where he sees himself in the future.​
Haser: Thanks for taking some time away from the studio and walls to join us. For those that are seeing your work for the first time, can you tell us who you are and where you're from?
SWIFTMANTIS: Hey, thanks for having me, my names Mikal Carter I'm a full-time Artist based in Palmerston North, NZ. I paint under the name SWIFTMANTIS and Tattoo as Mantis Mike.
Let's go with SWIFTMANTIS, I'd say after hanging out with you a few times and seeing your work, I can say you certainly have the traits of a Mantis, patience and accuracy.
Looking at your work, it's pretty clear you are naturally gifted, have you always been into art, or was there a particular moment when you realised you were good at it?
I think I was always a pretty imaginative kid, I was always looking for a playful escape. I was really obsessed with Dragon Ball Z when it first came to NZ TV. I had just started intermediate school, so like 10/11 years old, and didn't know any one in my class, but they loved my DBZ drawings so that made me think I was pretty good… I really wasn't, but it was enough to keep me drawing. Fast forward to high-school and my new obsession was Hip Hop. My drawing moved to Graffiti lettering and crudely tagging up the school grounds. But my biggest creative outlet shifted to music. This was the era when CD-writers first came out, and for the first time ever you could burn your own custom mix CDs. Just like that DJ SWiFT was born! I started mixing around 14, and by 15 I sold my first mixtape at school for 5 bucks! That's probably when it dawned on me I could do something creative with my life.
I think there's a lot of people that have validated their street credentials by being the superior Dragon Ball Z drawer.
So fast forward to now but going back in time, can we rewind to how you got into tattooing?
I got in to tattooing just over a decade ago. It was suggested to me after being asked if I could draw, probably one of the few things I could confidently answer yes to at the time. I was only 20 years old and had just quit my factory job and enrolled myself in to Design school. It was the first time in my life I'd whole heartedly committed myself to pursuing a creative path, and tattooing was really the first step i took in that direction. I never found an apprenticeship unfortunately, which is probably why it took me a decade, but I cant say I really looked that hard. I was listening to a lot of KRS One at the time and the self-empowerment idea of not waiting for someone else to come along and grant you freedom, but instead creating it for yourself. So I bought my first kit with my course-related costs and started tattooing my flatmates and friends immediately! I fell in love with the craft, it was insanely challenging to learn but i was hooked for life.
I would love to read a book that documented the confessions of what students spent their course-related costs on, I went to Queenstown with mine and bought a MacBook the following year.
I wouldn't encourage artists to not do an apprenticeship but it's always great to hear about those that have managed to do well without one. Remarkably, tattooing isn't the only thing that occupies your days, can you tell us what your gateway into the mural scene was?
Friendship was the gateway. My friend Gembol got me into it, we had both studied illustration and the opportunity came up to paint a massive mural for a local business. We collaborated on a concept that was ultimately chosen and worked on it over two months. I was working half the week at the tattoo shop and painting for the rest. It was a monstrous effort but it opened up a new path for me, and every mural became a stepping stone to the next from there on out.
Awesome, I felt like I was aware of most of the talent in NZ so I was definitely surprised when I went to Palmerston North for the first time and came across your work.
One thing I have noticed with your murals is the recurring subject matter of cats and octopuses, I think it's great but I have always been curious where this has come from.
Well I love rendering animals and creatures. I'd paint all of them if i could, but most of the time the animal choice is client-driven so I don't often get the chance or the free time to explore ones I haven't tried before. I'd been really wanting to do a house cat for a while, I tattoo lots of lions and tigers so I knew I had the rendering knowledge already, and i've grown up with cats so if anything I should have studied their faces more than anything. I started slipping them in to my murals, but just the eyes at first. It wasn't till Graffiato in 2018 that I was given the wall space and creative freedom to paint the full head. Im also quietly obsessed with the mythology of the Kraken, and seeing as we were painting at the great lake Taupo I thought some kind of water monster would be a fitting opposition... OCTO-PUSS! The reaction I received was really uplifting, and the rendering style with the strokes of fur and depth of field worked perfectly together so I was curious to see how far i could take it with my future projects.
That wall from Graffiato came out great by the way, I was certainly wowed when I saw it.
It was cool to see you in the line up for Graffiato as I knew you hadn't really done a lot of painting outside of Palmerston North. Since then have you managed to do any travelling on the back of tattooing or mural painting?
Yea, so far just the North Island, but it's always a unique experience wherever I end up. Street Prints in Whangarei was absolutely stunning, I loved painting there so much I came back for a guest spot tattooing at Tawck's legendary Memory Lane studio.
Nice, my hometown. Seeing the scene grow in Whangarei has been amazing, every town deserves a little colour.
Is there anywhere you're hoping to travel to in the near future, whether it's art related or just general travel?
In the long run I need to make my way to Greece for my own rite of passage. My grand father or Papou, Athanasios Ioannidis, immigrated here after WWII, and like many Greeks at the time, started the best Fish & Chip shop in town. That town was Raetihi, so it was also the only one in town, but nonetheless his food was the best! In the near future though I'll be heading to San Diego, California for a guest spot tattooing and hopefully a little painting too!
Wow, we're looking forward to see how your ventures in Greece go, and good luck in San Diego, you should certainly try get some painting in whilst you're out there.
You appear to be attending more and more street art festivals, how has that been for you? And are there any events that you would love to be a part of?
Aww man it's been amazing. I feel like I've been hiding in Palmy my whole life building this skillset In the shadows, and now I'm finally getting the chance to catapult it out in to the world. I've never done SeaWalls so I'd love to try that in the future, I actually paint a lot of underwater creatures so I think that could be a recipe for something epic! And Street Prints is actually coming to Palmy in January so we can finally bring that energy back home, I think that's going to be massive for us as a city.
Street Prints in Palmy will definitely reinforce all the work that is currently going on there right now, I wish I could be there.
How have you found being a creative in a smaller city? Do you think you'll move to a bigger city at some stage?
It's been a challenge for sure, there's only about 90k people here so I thought I would have had to leave years ago, especially trying to specialise in realism alone. It was harder early on trying to establish myself but the majority of my clients now are amazing. They give me their trust, they keep me challenged and we keep it pushing forward together. So I'm really thankful for that but a bigger city would bring bigger projects when I'm ready.
It sounds like you have your plate full with the murals and tattooing, and both of them sound pretty demanding, how have you been able to balance the two of them?
I run my own private studio for Tattooing, so it gives me the flexibility to fit murals in whenever they pop up. Most of the year I'm tattooing though, and murals can be quite sporadic so I just take it as it comes. It's definitely a balancing act though, and you only have so much time in a day so it can get tricky at times.
You're a hectic man.
Sometimes I wish we had another 3-5 hours in the day so I could get more done. I imagine you also have a life outside of tattooing and mural painting, are there any extracurricular activities or anything that helps fuel the creative juices or even get your mind off tattooing and painting?
I love Photography, flying the drone, filming and time-lapsing, so anywhere scenic I can do a bit of that I'm pretty happy. Lately I've been getting in to more animal photography, trying to shoot as much of my own references as possible. Aside from that I still love music, after mixtape DJing for so many years I eventually sparked a passion for making sample-based Hip Hop beats. I don't get to do it as much these days but i still love the process of playing old vinyls and finding those little gems to sample and flip in to something new.
Leave some of that talent for the rest of us
Who is on your inspiration feed and what artists have inspired you along the way?
You are bro haha, your journey has definitely been inspiring to watch, diving in to the deep end like you did, and the creative evolution it brought about in your work, that's beautiful man. Also, seeing how Tawck navigates painting, tattooing, and travelling abroad while still maintaining a successful studio in his hometown, it shows that it's possible! Also been really enjoying watching Charles & Janine Williams too, and how much of a positive impact they've created with their work in just this year alone. And of course, sharing the same home town, how could I not be influenced by everything Askew's done and still doing today. Even just reading your Space Station Spraycation story was mind blowing!
Thank you, I'm humbled. Haha, one has to experience Space Station syndrome to know how it can effect you, but as mentioned in the article, it was one of the best experiences we have been through.
You've been working under the radar for a while and have only recently started making a name for yourself, where would you like to see yourself in the next 5 years?
Wherever I'm at, I just hope I'm being challenged with meaningful work and still pushing forward to bigger and better things. Bigger buildings, bigger Tatts and better quality work. Hopefully I'll stumble across some unique avenues to explore along the way. So long as I'm still having fun and still keeping that playful inner child alive I'll be happy.
That's a really admirable destination, and do you have any advice for younger/up and coming artists
I imagine if i could go back to my teenage self I'd yell 'DRAW EVERYDAY!' or more specifically draw from life everyday. Sketch what's in front of you, whether it's a cup or a cat, a little goes a long way. You can learn a lot of fundamental skills that'll come in handy later on, most importantly learning to proportion things by eye. Even photo-realistic rendering won't save you from a mis-proportioned piece.
Very true, I have been guilty of avoiding the daily task of drawing everyday and when I look back it's quite evident where I have been lacking. It's easy to look at someones work and assume they're good at what they do but we never really see the long hours they put in to get to where they are.
I find it incredibly hard to work to the sound of silence, what music is banging on ya playlist at the moment?
Still jamming a lot of Bill Withers to be honest, and compilations of old songs that were famously sampled in Hip Hop. Love that last Hilltop Hoods album, anything from Tom Scott, Team Dynamite, Wax, Joyner Lucas, Lowkey, Immortal Technique or Nahko Bear. A lot of times when I'm working I just want something familiar so I can focus on the work.
Nice, there's a couple of names in there that are new to me so I'll make sure to have a listen at some point.
Last but not least, your favourite burger from BurgerFuel?
Aww bro that limited edition Pork Belly burger was the best! I'm gonna start #BringBackTheBellyBurger haha, but failing that my 2nd favourite is the classic Burnout!
Good choice, at least you have access to BurgerFuel, my stomach mourns for BurgerFuel Aiol.