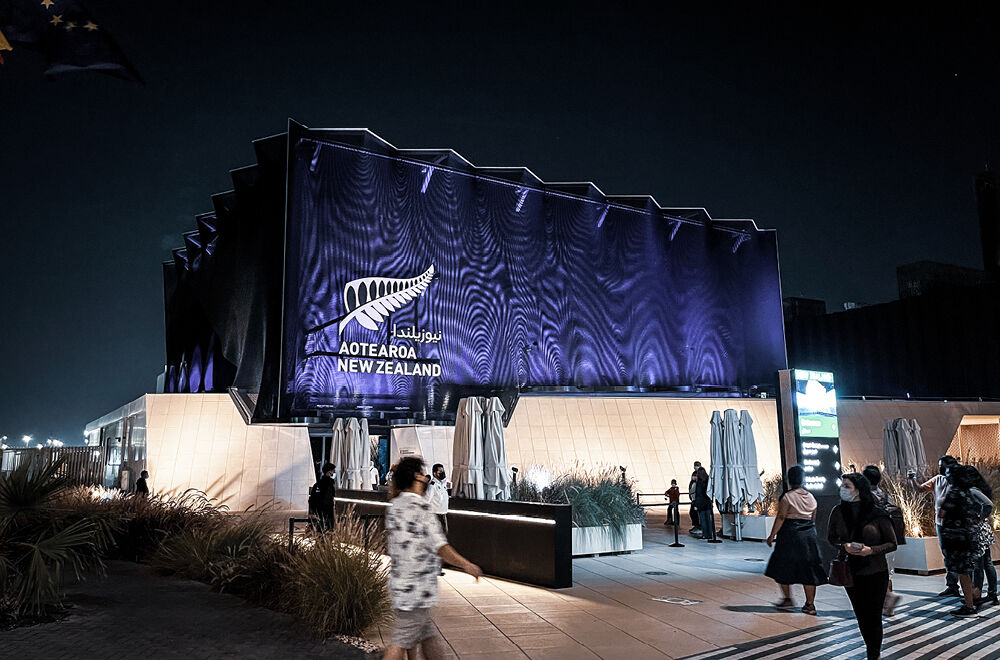 Posted by Creative, Sweet
2020 feels like a lifetime ago, but as we all know, it was the year the world would drastically change. One of the worlds biggest events on the calendar that year was Expo 2020 Dubai. When the world came to a complete halt, Expo 2020 was forced to postpone their opening and would see them launch in 2021 and span in 2022. For the first time in World Expo history, every participating country had its own pavilion which allowed visitors the opportunity to enjoy immersive cultural experiences and discover what makes each country unique.
Our resident artist Haser was one of 5 artists to head up there and represent Aotearoa New Zealand on their national day, along with MasterChef winners Casey and Kārena Bird, DJ Sir-vere, London Kapahaka group Ngati Rārana, Sol3 Mio, Six60 and Parris Goebel's Royal Family dance crew.
Haser, along with 4 other artist's were part of a grand line up that put forward their best efforts and performances to exhibit an energetic, creative and cultural display that allowed visitors to get a physical, visual, cultural and unforgettable taste of Aotearoa New Zealand. 
Leading up to New Zealand's national day at Expo 2020, Haser and his team would begin their mural, a 3x20m canvas in the middle of the Al Forsan park. The artists would respond to the theme behind New Zealand's pavilion "Care for People and Place", they incorporated this into their mural by painting each others portraits to signify trust with each others identity, this was complemented by 3 native birds (Tui, Ruru & Pukeko) that were all weaved together through traditional Māori kowhaiwhai. The team collaborated on this mural over 5 days in front of a large crowd that were also treated to the sounds of the South Pacific, courtesy of longtime veteran DJ Sir-vere.
A word from Haser
This will forever be a special moment in my life, I have travelled all over the world and painted in more cities than I can remember, but something was different this time. I was incredibly fortunate to do this event with my brother, both of us were last minute call ups for Charles & Janine Williams and Otis Frizzell. Other than my brother, we were all strangers on a plane, when we landed in Dubai, I met the rest of our artist team at the baggage carousel. Over the next 2 weeks, we would share our professional stories and advice as well as our cultural backgrounds and differences, these would weave together our journeys and bind us together.
Our biggest treat came at the hands of the Royal Family dance crew, as we were wrapping up our mural, I could feel their presence looming closer to the wall, all of them in uniform and all of them proud to be there. The leader of the pack Brett Goebel (father of Parris Goebel) asked us to stand in front of our wall as he signalled his team to move forward. It was at this moment, all 5 artists as well as DJ Sir-vere, would embark on an emotional journey and realise the magnitude of our presence at this event. Receiving a tautoko Haka in a foreign territory, from a group that I have such admiration for, all whilst representing my country at the worlds largest expo doing what I love.
From Left to right: Eva Fuemana, Kairau 'Haser' Bradley, Gary 'Enforce' Yong, Earnest 'Tawck' Bradley,
DJ Sir-Vere, John Crouch