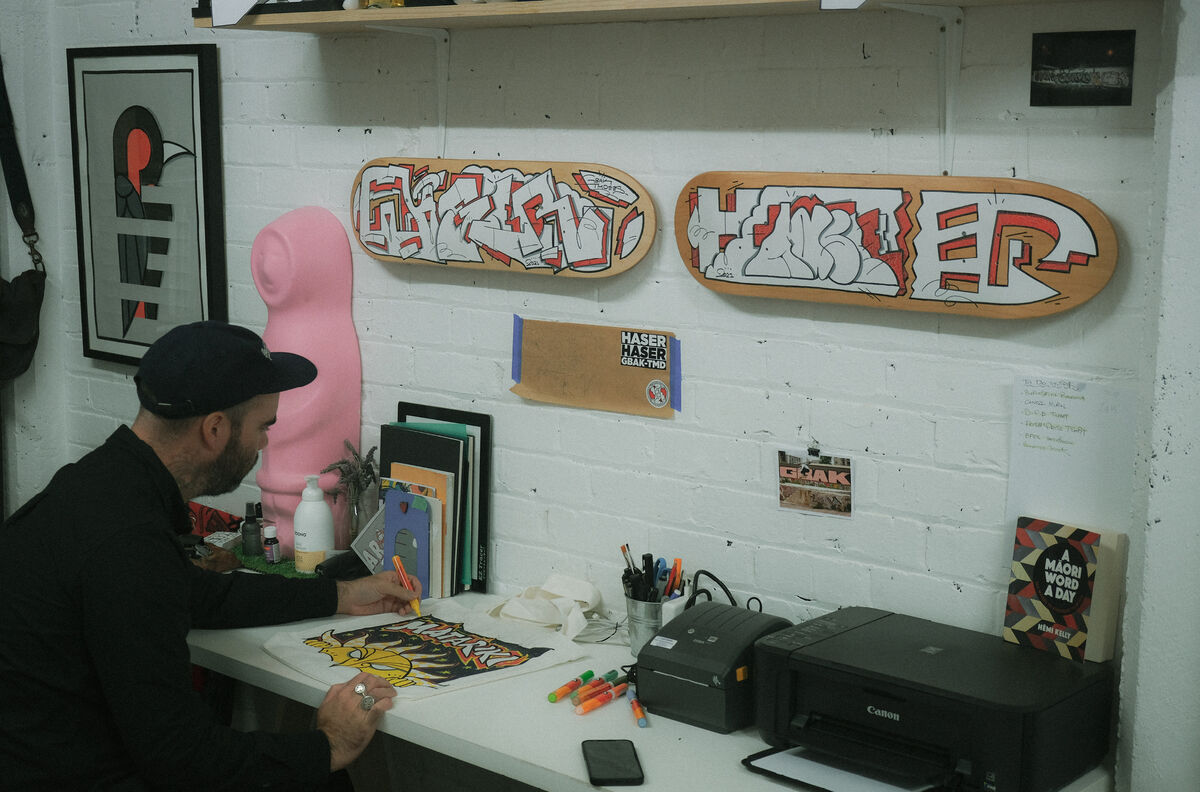 Posted by Creative, Sweet
We last caught up with you this time last year and a lot has changed since then. You and your partner, Karen, welcomed baby Thea into the world. How are you enjoying being a Dad?!
Thank you, Yes we were super blessed to welcome our first born into this world. We absolutely love her.
Have you had much time since Thea's birth to be in the creative head space? We imagine that bringing new life into the world might tend to have a pretty profound impact on a person and as a creative, you can tend to draw from life experiences. Has your experience of parenthood had any effect on your personal practice, or methods of working?
I've been pretty conscious about my priorities since she was born. I worked pretty hard before she was born so I could afford to take some time off. Those newborn moments don't last very long, so I wanted to soak up as much as I could. One of the main reasons I wanted to be self employed as an artist, was so I could have the ability to up and leave when big opportunities presented themselves, whether that was overseas murals or jobs that require a lot of time, and that always seemed to be a problem when I occupied a full time job. The biggest pay off for that decision was being able to take 2 months off when Thea was born so I could be present, for both her and my partner Karen.
I generally don't like to be away from her for too long, but I'm pretty realistic about still having to maintain a working lifestyle so I can support us. I've recently made my way back in to my studio, so I try make those moments count. I used to be in there from 8-5, but now it's more 9-3. In saying that, even though I spend less time in there, I still produce the same amount of work, there's just less mucking around now.
Whenever I'm squeezed for time or opportunities seem to fall away and it feels like doors are closing, it's usually cause another door is opening, so I'm pretty optimistic about change, I just have to have faith in what it is I'm doing.
When we last caught up with you, we asked where you saw your craft heading to and what new frontiers you were keen to explore. You mentioned how you felt like you were just about to start your journey and used the word 'epic' when describing your new frontier and foray into the sculptural space. Are you still heading down that pathway of large-scale studio works and murals?
A lot of what I do is influenced by my graffiti, I'm always looking for innovative ways to approach it, and also ways to incorporate it into my studio practice. Whatever my take is on something, it's usually executed through the lens of my graffiti practice, it makes it unique and also allows me to make it my own
Sculptures were a pretty ambitious thing for me to dive in to, a few road blocks presented themselves in the process of me trying to go big, but it also redirected me into a space where I'm probably a little more comfortable. Sculptures, and in particular, public space sculptures are still very high on my priority list, I just don't think it's where my attention should be right now.
I actually double downed on the paintings and started making really large works, both in my studio space and on the walls with murals. It's a pretty exciting challenge to paint really big, it takes a lot of patience and discipline. I love completely taking over a space and creating energy within that space and seeing how people react and respond to it.
What is the latest body of work you are getting stuck into in your personal practice? What have you been up to lately?
I'm actually at the end of a chapter with my work, I'm looking to exhibit the work in August and hopefully close that book for a while. The body of work is called "Surface Smiles" and it's also the title of my show. It's a series of works dedicated to mental health, It talks about a period of my life that I went through and how I coped with it. I felt like I needed to have this show, or at least show these works so I could seek personal closure, and in return I hope it helps anyone else that is still going through a rough patch in their life.
On a brighter note, last year I completed a series of works that was actually a revamp of some work I made in 2012. I've always been fascinated by the limits and complexities of graffiti and typography. I took it upon myself to draw each letter from the 26 letters of the alphabet, each letter was individually drawn and was compiled of various and interwoven, miniature Haser graffiti pieces that explore repetition, scale, placement and style. These were converted into prints and made available for purchase just before the 2021 Xmas period.
Any exciting things on the horizon that you can share in your professional practice?
I have another show that I'm working on which is a collaborative show with my brother, we're hoping to exhibit at the end of this year. We have both lived pretty similar lives which consist of art and travel. This year we were both invited to Dubai to represent Aotearoa at Dubai World Expo, whilst up there, we learned a lot about where we were at in our lives, personally and artistically. This show will be a celebration of our cultural roots, both indigenous and social.
I'm also very grateful to have a handful of people and brands like yourself (BurgerFuel) that keep my workflow turning over. My workflow balance is usually 80% personal and 20% commercial, but sometimes I need that 20% as a way to step away from my personal work and trial something else. Admittedly that 20% usually finances most of my life, so it's also a pretty important part of my business model haha.
You have mentioned in the past that you particularly draw inspiration from individuals or organisations that are trying to help and heal the world's problems. Are there any that spring to mind that are on your radar currently? If you could collaborate with any other artist, brand, organization etc, who would it be and why?
Unfortunately I feel like that list gets longer every year, I can't say these are humanities best moments in history, but it is comforting to see more and more people stand up for change. At the moment, I'd say my attention is certainly focused on one of the biggest threats we face, which is our environment. I get behind anyone or any organisation that stands up for the planet
The team that are occupying Putiki are my current heroes, they dedicate their time and freedom, fighting for our precious Kororā penguins. I grew up in the country, so I was constantly surrounded by fresh water and native birds, seeing the decline in native birds and the pollution of our waters is a wake up call that we need to be better. Last year I sold a bunch of prints to raise money for their legal aid, it's hard to imagine that they are deemed the criminals in this situation, if we don't stick up for our wild life, who will?
I really like what Koha Apparel are doing as well, slowing down the life of fast fashion and also making sure those garments find their way to those that really need it.
And how about any up-and-coming artists or creative work you are really digging?
I'm always excited by the emergence of new graffiti artists, tattooers and illustrators, probably because those are the core elements of my own practice. There's a group of local artists in Auckland I enjoy watching (Finn, Chippy and Marcus), I think they're a bit beyond up-and-coming but they're all doing some cool work and working with great brands and clients.
BurgerFuel's Creative, Sweet platform was your brainchild and you have continued to guide the programme's evolution over the years. We love to support up and coming artists through Creative, Sweet. What advice would you give any advice to young creatives trying to make a name for themselves and make a living from their craft?
After years of navigating the complexities of being an artist, I have found passion is what gets you over the line. Getting paid to do what you love means someone has to like what you do in order to pay you. Talent helps with direction, but dedication and passion to your craft is what paves the road in front of you
Now, as always, for the really important question…what's your favourite burger of late?
I still try to opt for the vegetarian options, but the Modifried Chicken sucks me in every time, spicy food and fried chicken are a certified weak spot for me.