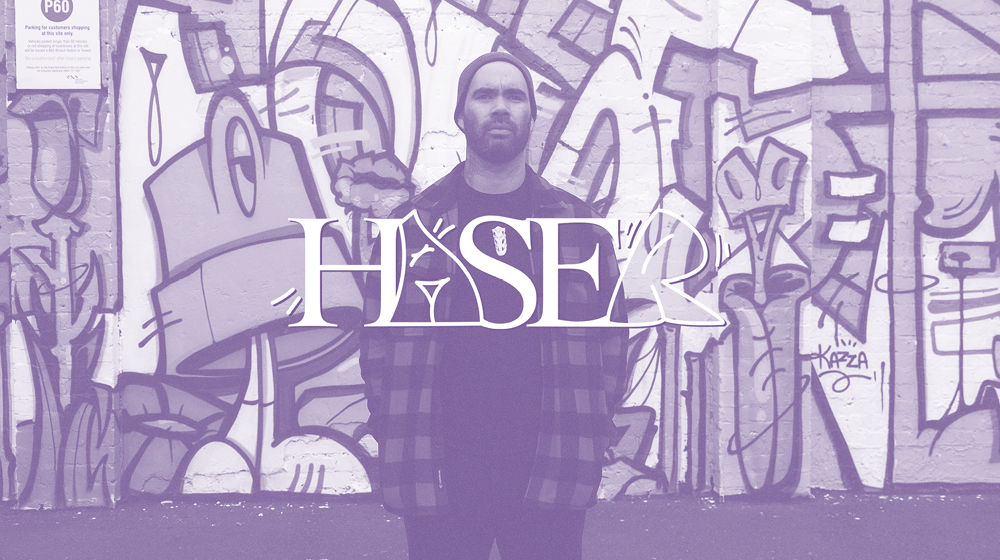 The Creative, Sweet has become an integral piece of BurgerFuel's cultural and visual identity.
The guy behind it all, was a BurgerFuel head office staff member with a vision. This visionary legend is known to us at HQ as Kairau (or Kold Krush to very few, when he's throwing down at the B.A.D. gym), with the creative alias, Haser. Kairau is not only responsible for the ideation and establishment of Creative, Sweet, but he continues to work closely with the brand and his ongoing initiatives and ideas have kept it thriving, long after he ditched the 9-5 with us suckers.
We chat to the multidisciplinary creative force, Haser, and learn there's a whole lot more to the man behind the spraycan, paintbrush, pen etc etc...
When did you first discover you had a creative leaning and what are your earliest memories of creating something akin to 'art'?
Art has been in my life since I can remember, literally. My dad was an artist so I was surrounded by his art as well as art that he was into, which was a lot of fantasy art and that really West Auckland bogan stuff. I thought all this stuff was normal but as I got older, I realised some kids were never exposed to it, so I've become really grateful that my parents encouraged it for so long and at such a young age.
I've always been someone that thinks 'if they can do it, I can do it'. I remember not only being inspired by some of my dad's paintings, but trying to recreate them as well. He was really into Conan the Barbarian, so that meant I was also into Conan the Barbarian. I remember teachers questioning my inspiration behind some of the drawings I used to make, which were men with axes and severed heads and half naked women - not your typical subject matter for a 7-year-old kid.
We know you grew up in a household that was very supportive of your creative pursuits. Do you feel there's also some inherited creative talent flowing through those veins?
I know I inherited the creative gene from my dad. I think the thing that pushed me was the sibling rivalry between my brother and I. Admittedly he was a bit of a dick to me growing up, always putting down my art, but that's just the role of a big brother, and it's not something that I recommend but it is was what encouraged me to push myself to be better. Both of us are full time artists today and we always laugh about the past as we are so grateful for our present. Every now and then we find ourselves working on projects together which is great. My parents love it as well as this is what they always wanted for us.
How would you describe your current work, in a nutshell? How has it evolved over time?
It's a pretty hard question as it's not that simple. My desire to explore has always allowed me to open many doors in life, but it also creates the problem of not knowing where I belong. My artistic background is graffiti and my professional background is design, but both of those have never really allowed me to speak my mind. In 2018 I moved to the UK and I really felt the need to pick a direction, as I wanted to make art that was representative of my thoughts and I was really over being a paint brush for somebody else's creation.
The way I have managed this now though is by applying different hats to each practice. I call it my 3 P's (Professional, Passion & Personal).
Professional applies to my design practice. It's a place where I allow outside influence from clients to dictate the direction of the work. This is probably the only time I allow myself to be a paint brush for someone else.
Graffiti has always been a passion project for me, I've been doing it since I was 11. I have seen opportunities for revenue, but it has never influenced my desire to paint. I just enjoy painting with my friends and exploring the medium, it has also been the reason for a majority of my travel around the world and it has allowed me to meet and connect with artists from all around the globe.
My personal practice is a place where I get to talk about issues that are important to me, from global and local issues, to cultural and identity issues. My life experience has given me a lot of perspective and I can see things that need to be fixed, I feel that projecting these issues through my art enables me to bring them to light and deal with them in a public arena.
You're a jack of all trades and a master of most. Do you have a preferred technique, method or medium?
A spray can is probably the medium I am most comfortable with and it's what sets me apart from a lot of artists as it's a difficult medium to harness. I have played around with multiple mediums, techniques and methods over my life and it has allowed me to build a wide spectrum of offerings. I pull influence from everywhere. I still find myself reflecting on my career as a boat builder and trying to find ways to introduce those skills into my work today.
What and who do you take inspiration or influence from in your work?
My work today, especially in regards to my graffiti and personal practice, is inspired and influenced by my life's experience. It's a constant reflection and improvement on things that I have done, places I have been and the people around me. My professional practice is usually inspired by pop culture - it's where I like to elaborate on things that I find interesting and add my own flair to it.
In regards to who inspires me, there are so many to name, I'm constantly inspired by people doing great things, whether it's in the arts or music. Lately my biggest inspiration comes from individuals or organisations that are trying to help and heal the world's problems. Of course, there are the obvious inspirational people around me which are my dad, my brother and my graffiti crews GBAK and TMD.
Where do you see your craft heading to? Are there any new frontiers you are keen to explore?
Considering I have been engaged in the art's my entire life, I actually feel like I'm just about to start my journey. I think everything before now was my work experience and now I am ready to start making moves. I have recently started working in the sculptural space. I have been able to draw on my experience from boat building and have recently developed a close relationship with the tool department at Bunnings Warehouse. The scale of my studio works and murals have also increased in the last 2 years. My biggest solo wall to date was my "Aotearoa' mural that was part of the 'Graffiato Festival 2020' in Taupo. To answer your question, I think 'Epic' is probably the frontier that I am looking to explore.
You've worked with both the restraints of office life and the freedom of freelance. What are the main challenges you face now, making a living as a solo creative?
I had always maintained a job, as I thought surviving as an artist was too difficult. But since 2018, I have been completely self-employed and I don't think I will ever go back. I am really big on experience though. I think in order to have an opinion on something you need experience to validate it. I certainly don't regret my life in the office, it was fun and gave me some security as I was still trying to figure out who I was. Working as a full-time artist has its highs and lows, and to be honest, there are probably more lows than highs - but those lows are definitely worth the highs when they come around. I'm able to create my own schedules as well, so when jobs come up that require me to be away for days, or even weeks on end, it makes it possible, as I felt that was something that really capped some opportunities when I was working.
If you could hang your hat on one piece you created, or project you were involved with, what would it be? Something that you were really proud of?
I'd like to hang my hat on everything I've done so far. I think we move at such a fast pace that we fail to recognise some of our greatest achievements. I have been doing a lot reflecting lately and realised that I have been a part of some incredible projects and really historical things that I don't give myself enough credit for.
Just recently, myself and the TMD crew were given the opportunity to put on an incredible experiential exhibition, for the duration of 5 months, at the Dowse Museum in Lower Hutt. It was 2 years in the making and a year of planning. When it came to installing the show, it was hard to be overwhelmed as it had been in my head for a year and it looked exactly how we had planned it. Only recently I have been reflecting on it by watching videos, looking at photos and reading reviews. I had to take a moment to congratulate myself and my team as we actually created history with this show. We honoured our past and we laid down foundations for the future.
You've had a profound impact on BurgerFuel and the evolution of the brand's visual identity. How has your journey with BurgerFuel impacted you personally or professionally today?
I've had a really long journey with BurgerFuel and I'm very thankful for it. I planted a seed with the brand in 2010 and it has continuously blossomed, and even though I no longer work directly for the brand, we still have a great relationship. I can't think of too many brands that have had such an influence from one creative, so it's an honour to have had that opportunity. I don't think I ever treated my time at BurgerFuel as a job as I was having so much fun. I wanted to challenge myself and I wanted to be a part of BurgerFuels success in doing so.
I don't think I would be as confident as I am today without this experience. There's a level of professionalism that came with the job that benefits me today, as I continue my journey as a full-time artist. Being able to apply those values to my daily practice means I'm able to stay focused and map out future plans and execute them accordingly.
As founder of BurgerFuel's Creative Sweet programme, what was the initial intent behind it, what did you hope to achieve?
It still feels weird to be labeled a 'founder', it's such a grown-up word. I guess that's indicative of the fact I still consider myself a teenager. When I first started at BurgerFuel, we floated the idea of getting artwork printed onto plywood so we could install it in our stores. I questioned whether it would be more authentic and probably cheaper if I just painted the artwork directly onto the wall. This idea took me to Sydney and I knew we had stores in the Middle East, so I spoke to the BurgerFuel team and asked, "how do I get to the Middle East?".
BurgerFuel had just launched Radio BurgerFuel and they already had a heavy presence in the motor and classic car industry (Speed & Custom). These 2 elements really started to illustrate the brand but it was still missing something, and that was the creative element. The Creative, Sweet was one of the final pieces of the puzzle for BurgerFuels cultural pillars, we would later add B.A.D (BurgerFuel Athletic Department), and these 4 elements would become BurgerFuels cultural identity.
Once the Creative, Sweet had been established, we then began to put it to work. The first phase was getting custom artwork in all of our stores on an international level. This took me all around New Zealand, as well as Australia, Dubai and The USA.
Leaving out the detail for the reader as to how annoying we are when we contact you for various projects, in your words,how do you work with BurgerFuel today?
Sometimes I feel like I never left, I just don't work in the office anymore. I still play a crucial role in the cultural creative direction of the brand, I have a heavy presence in the art world and I act as a bridge for these 2 worlds to cross over and speak to each other. BurgerFuel stores are still opening, so I find myself painting custom pieces, and if I can't be there, then I orchestrate local artists to step in. I'm constantly thinking of creative incentives or programmes that bring together members of the creative community, or ways to bring the creative community to the people.
Before Covid-19, I worked with BurgerFuel to bring to life our first Creative, Sweet event "Table Talkers". It was an opportunity to bridge the gap between creatives from all over Auckland. We went right back to the basics. We put paper on the tables and pens in their hands. Creatives from different disciplines were able to connect and exchange ideas. They were able to offer outside input into each other's practices and were also loaded up with BurgerFuel and beers over the night.
How would you describe your Creative, Sweet / BurgerFuel artwork style and approach – how does it differ from the work of Haser?
The BurgerFuel Creative, Sweet murals have really come into their own in the last few years and it's a body of work that I only apply to BurgerFuel projects. I try not to over think the process. Most of the murals are thought of right before I do them. I try to respond to the area that BurgerFuel is in, and also the space that I am painting, you can't really do this from a distance, you have to get in there and feel it. I usually get a burger before the stores close for the night, as that's when the murals take place. As I'm eating my burger, I begin to think about what I am going to paint. The murals have always had a graffiti and tattoo influence, and these act as the base for all the murals.
Now for the really important question…what's your favourite burger?
Not that I'm a vegan, but the V8 Vegan does it for me. It's aspirational as well, as I have been slowly removing meat from my diet in the last few years.