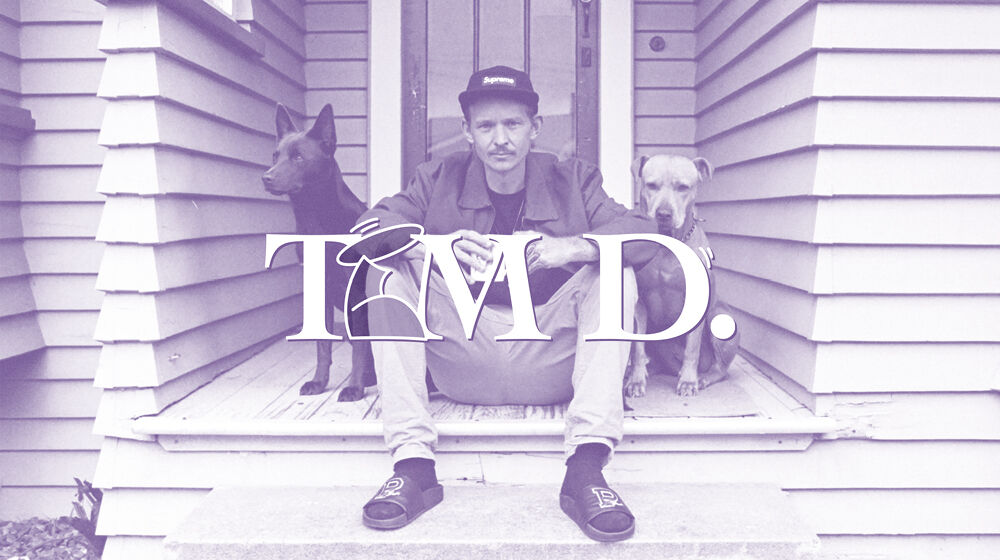 Posted by Creative, Sweet
A photo reminds us of a moment in time but a great photo takes us there. Tim D comes from an urban background, and his images are a reflection of that. The ability to capture the essence of a subculture outside of it's context is always a difficult task, taking a photo in the present, knowing what it will mean in the future. We capture a moment of time with Tim D. to hear about his life and his journey as a photographer.
Thank you for joining us. For those that are first time observers of your work, can you tell us who you are and where you're from?
Kia ora, I'm Tim D. and I hail from Tāmaki Makaurau via a childhood in Jakarta, Indonesia.
That's awesome, my memories from Jakarta were amazing people and horrible traffic, I'd love to go back there for a little longer so I could paint more and connect with more locals.
As long as I've known you, you've had a camera in your hand and a fascination for photography. When did you start snapping away, and what got you into it?
I got into photography through skateboarding magazines. My grandmother had a point and shoot camera she let me borrow and take around with me. I remember you used to have to time the flash by shooting a second or two early to make up for the delay and capture the moment you wanted. Ironically that camera was the Olympus MJU, a camera now lusted after by many due to the fact that you can make incredible pictures without any knowledge of manual settings on a camera.
Awesome, shout out to nana.
I still have a lot of the magazines from then. There was a series by John Humphries in which he had set up a backdrop in the mission district of San Francisco and shot portraits of the people in the community. This was the first time I consciously remember thinking about portraiture and photography. I'd go as far as saying, seeing those photos could have been the moment I fell in love with photography and shaped a lot of what I do now.
During high school, photography was only offered in form 6 & 7 (year 12 & 13), but unfortunately my high school career didn't last long enough to take it as a subject so I didn't properly pick up a camera till a few years later when I shared a studio space with my friend and commercial photographer Mark Barber.
Subsequently this was around the same time I got into graffiti. I would take action shots along the rail corridor or in the city of my friends painting after I had finished. I loved the intensity in the images. There's not many other subjects that you risk a night in the cells to shoot.
I don't rate myself as a photographer, but documenting graffiti over the years has shed some light on the person behind the camera and the danger they put themselves in. This has enabled me to look at photos in dangerous environments and think about the photographer rather than the photograph.
Digital or analogue?
I think a common misconception is I only shoot film. I actually shoot a lot of digital too, some of my favourite images I've shot have been on my digital cameras. It depends what you are shooting and why.
With my film work, I'm trying to create timeless images of life in New Zealand that follows a lineage of incredible photographers that came before me and I think shooting on film helps with that timeless aesthetic. Another thing I really enjoy about film is the process. It's hands-on and consumes time productively!
Nice work, I think that's a nice balance. I'm a huge fan of the analogue process except I have zero patience for it, so I just fanboy over those that do.
When I decided to take the documentation of my graffiti more serious and invest in a better camera, I was quickly overwhelmed with how expensive cameras were, and it didn't even come with a lens. What hardware are you using, and what's your dream set up?
I have to honestly state as far as film goes my friend Kieran Lowe did the grunt work on gear research and acquisition and I've been copying his gear ever since.
It's always good to have a friend that geeks out even more than you do.
My latest acquisition was a Wista 4x5. It's one of those cameras you have to go under a dark cloak to focus and you don't actually look through the lens when shooting. It's not actually the most technical process, the way I'd describe it is there are a few steps to making a picture and if you miss one step you're screwed and the image won't come out haha. It has an amazing hit rate though, by slowing down the process. For my Avondale series I shot only two frames per person and I am so pleased with that series.
I'm fortunate to have had a lot of help and support from Leica NZ here locally. To be aligned with that brand is a dream come true so I'd say anything they have lent or helped me acquire has been my dream set up.
Leica, the Rolex of cameras. Have you damaged/lost any of your gear in the process of documenting?
I've been pretty lucky in that sense. I have lost a couple lens caps in train yards back in the day though haha.
You'll have to ask Kieran about the time I lent him one of my Leicas and it cost him a very expensive trip to Germany to be fixed.
Haha, this is why I try not to borrow things. With technology moving forward, why do you think some photographers are heading in the other direction?
This is a complicated one. TBH one reason I think is that it's easy likes in an instagram world. Shoot a cliche subject on #expiredkodak film and boom.
But there's a lot more to it than that, one bonus is that film is more popular than it ever has been in the last 15 years and that means the films that are still produced and will continue to be in the future.
The down side is the second hand market has gone through the roof and the medium can only last as long as the cameras function. Luckily stuff was built to last before the turn of the millennium.
Sometimes I will get a DM from someone on instagram about which film camera is best to learn on - my best advice would be to learn digital first as this will save yourself a lot of time and money. When I started film and developing, it was a lot cheaper than it is now.
Good advice.
On the subject of developing, I know you have started your own little dark room project, how is that going?
I've been having a blast rediscovering film and printing again. Kieran and our friend Dorian set up a darkroom at their flat last year between lockdowns and I made regular appearances on Friday nights.
When we went into another lockdown that was the push for me to set up my own space. It's a tiny makeshift one in my laundry I can only use at night but it really is my happy place in my house and I've spent a few nights printing till the sun comes up. There really is no feeling like watching the print appear in the chemicals.
I really enjoy your ability to truly capture a moment, what triggers you to take the right shot?
For my personal work I really just document things that are interesting to me be it people or places.
Having moved around Grey Lynn, K Rd and Ponsonby for the last 15 years I've seen a lot of change and I love finding those gems of character in my neighbourhood, people who held onto their homes surrounded by white washed renovations. I'm actually working on a new series called "Before the gold rush" which is portraits of people who bought their homes before the status symbol & price values of today.
That sounds like an awesome series, I hope there's some interviews that come with it.
How have you handled this year's lockdown, has it affected your work in any way?
I started this lockdown strong and was really just making pictures to pass time. Nothing groundbreaking just documenting my city and neighbourhood images that aren't particular fascinating now but could become important as we look back at this experience in a couple of decades time, unfortunately around the halfway point I hit a real slump and was completely uninspired. I shoot people and my love for photography has always been to shoot the human experience. I had a realisation that as great as it has been chatting to people online my inspiration and drive comes from running into other creatives and hearing about what they've been up to much like our conversations have. I'll run into someone like you, have a 20 min chat about our practices and it lights a flame and motivates me. Luckily with the change in levels I can shoot people again. I shot a job last week and it was great to be back. Now I'm motivated again, ready to put in the work!
I know what you mean, I'm quite introverted so I have actually enjoyed the lockdown in regards to me being able to make work, but there's a big part of my practice that is reliant on human behaviour. I go to a cafe most mornings to draw and people watch, since lockdown, I can definitely see a void in my work since I haven't been able to do this.
At least you have been able to stay active, are you working on anything at the moment?
I always have a bunch of long form work that I am chipping away at. My largest body of work to date is an ongoing series on Grey Lynn that I won't release for another 15-20 years, it's pretty much unrecognisable already but I want it to come out and people will be like "shit this is what it used to look like" and how multigenerational and multicultural it used to be. For the generation that marched against the Springbok tour and their children meeting them, made me who I am.
I really like that idea and it sounds like it'll be a great series. I think the world will be a completely different place in that time so it will be a blessing to revisit a time like now. I still consider 20 years ago the mid 90s, so it'll be interesting to see how we perceive time 15-20 years from now.
Now that we have seen where you're at for the next two decades, what is your current status, what's an average day for you?
Get up, make a coffee and sit in the morning sun flicking through a photo book, then we are usually out the door walking the dog. Head back to do some admin or chip away at a project, maybe head out and shoot something, cook some food or pick up something for the 100s of dope places in this city, watch a doco, sleep, repeat.
We certainly live a blessed life don't we.
What artists are currently on your inspiration feed?
I'm super inspired by the lineage of New Zealand documentary photographers who were here before me.
Ans Westra | Robin Morrison | John Daley | Glenn Jowitt

The list goes on for such a small country, there were so many amazing photographers especially in the late 70's & 80's
I know a lot of creatives become inspired after travelling, before COVID 19 was a thing, were you able to get many stamps in your passport or are you hoping to head abroad at some point?
I feel like I had just begun my travelling journey in 2019. I feel so lucky that I got to experience New York city before the pandemic and I am dying to get back there.
Everything I do now, all my hobbies and inspiration whether it be Skateboarding, Graffiti or Hip-hop originally comes from America and while we have culture here it's just such a small place. Before I lived here, I lived in Jakarta with 10 million people. I'm a child of the concrete and I cannot wait to get back there. My partner Petra and I still have an entire body of work we haven't shown from our trip. I managed to complete a lot of projects during the pandemic but this one body of work seems to bring lockdowns every time we start to begin to put it together.
Awesome, New York is a super city, I feel like most of us grew up through our televisions, so going to New York feels like stepping onto a movie set where everything seems so familiar.
You have a lot of work in the archives, we can't wait to see it come to light.
When art isn't at the forefront, what else do you do to occupy your time? And does that inspire the process or do you prefer to keep your art and life separate?
I think your experience shapes your inspiration so it def all merges into one also documenting my life is my practice to some degree.
My favourite thing to do outside of taking pictures is spending time with my dog, he's an Australian Cattle dog called Kodak. It took two pretty solid years of hard work but now he's super well trained & behaved and rolls with my partner and I wherever we go!
Kodak lives a great life. Where would you like to see yourself in the near and distant future?
The last two years my commercial photography practice has really picked up. Advertising has really been flipped on its head the last 10 years and my style of authentic documentation has brought the clients to me more than ever before. A lot of commercial photographers here don't make personal work and when they do it's tainted by their commercial practice and just looks the same. I look forward to growing my commercial practice while still maintaining a prolific body of personal work.
Well said, I didn't realise how influential my professional practice was on my personal practice when I was working as a designer. It takes a lot of effort and patience to keep both engines running at the same time and have them going in their own direction, but it sounds like you've found a way to do that.
What advice would you give your younger artist self?
This is one thing I've learned that's a piece of advice I give to young people. In your teens and early 20's you want opportunities but no one wants to give them to you but once you hit your mid 20's doors start opening up and your network starts to grow and people you know start opening businesses and the opportunities start coming in. At the time it feels like you're not moving forward and then all of the sudden you end up in a place where you have achieved things you thought were never going to happen. Stay on your path, put your head down and work hard and when you least expect it you'll be in a place you couldn't have imagined you'd end up.
Respect. Most of my 20s was spent looking at my friends in their 30s and wondering why I wasn't as successful as them, the older I got the more I could see my own picture develop. I definitely think patience is the key, but it's so hard when the world is moving so fast.
I personally find it almost impossible to work without music, it' s so embedded in my life, what music is banging on your playlist at the moment?
J Cole | Diggy Dupe | Drake | UGK | Che fu
Respect to the The Niuen royalty.
BurgerFuel has a large fleet of classic vehicles, what's your dream machine?
I wasted a lot of money in my early 20's on old European cars. I always had the lotto dream combo of a 1990s Black BMW 850ci & 750il but if we're talking American probably have to be hitting switches in the 64 impala.
Classic, last but not least, favourite burger from the Fuel?
15 years of cruelty free living. Combustion Tofu for the win!
Thanks a lot for your time Tim, if you would like to see more of Tim D's work you can follow him on the grams or visit his website here.