BurgerFuel
Top 5 Beaches to get your BurgerFuel on this Summer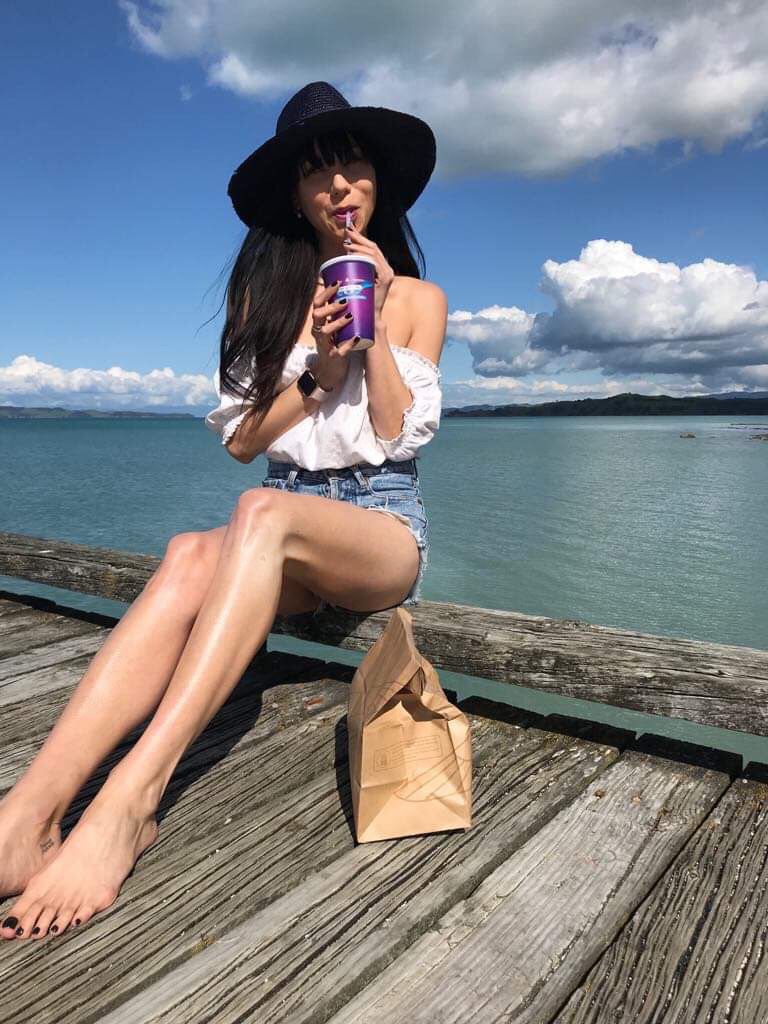 Life's a beach and then you fry (as in Spud Fries, get it?).
We asked our resident beach expert and road-trip enthusiast for her top beach recommendations of where she thinks you would enjoy eating your BurgerFuel this Summer (TBH you can eat your BurgerFuel at the beach during any season, but cold + wind + sand isn't the ideal combo with your freshly put together bags of goodness).
Well, she did a terrible job of cutting the list down to five and we were totes down with all eight, so here are some hot spots for you to hit up on those dreamy sunny days and remember to slip, slop, slap & wrap ya'll!
1. Red Beach
Approx. 8-9-minute drive from both BurgerFuel Silverdale & BurgerFuel Whangaparaoa.
Coast life is the most life! Located on the Hibiscus coast, north of Auckland, this dreamy beach is perfect in the early evening for some picnic action, and at 2k long, good for a post dinner stroll too ...
2. Fitzroy Beach
Approx. 5-minute drive from BurgerFuel New Plymouth
Shaka. This popular surf break break is also super fun and suitable for everyone with the Fitzroy Surf Life Saving Club patrolling to keep you safe all Summer. Post up, doofer up and watch the surfers do their thang.
3. Oriental Bay
Approx. 5-minute drive from BurgerFuel Courtenay Place & an approx. 9-minute drive from BurgerFuel Cuba Street
How good is a beach that's super close to the CBD?! Sometimes slightly crowded (because you can't beat Welly on a good day) but it's worth getting towel-to-towel with a stranger for the awesome views back into the city and out into the harbour. Check out the multi-million dollar beach vibe-y real estate (so cute) and watch out for the sometimes spotted resident whale!
4. Kohimarama Beach
Approx. 3-minute drive from BurgerFuel Mission Bay
Yes we do know that BurgerFuel Mission Bay is well, across the road from Mission Bay, but…. spice up your life and keep to the right hand end of Kohimarama Beach to avoid the crowds.
5. Minnehaha Beach
Approx. 2-minute drive from BurgerFuel Takapuna. Great for dog spotting, people watching..
Also known as Thorne Bay, this little beach is tucked between Takapuna and Milford and is the perfect spot for multiple ocean dips and picnics - BYO burgers.
6. Papamoa Beach
Approx. 2-minute drive from BurgerFuel Papamoa
Enjoy these white sands with burgers in hand (sorry couldn't we couldn't help ourselves) this lengthy beach at 16km is known for surfing, swimming, kite and wind surfing and activities in general. If they aren't a bit of you, you can always dig your toes in along the shoreline and score yourself some pipi's. Choice.
7. Paraparaumu Beach
Approx. 4-minute drive from BurgerFuel Kapiti Coast
This idyllic, classic West Coast beach is dog friendly (yay!) and has a great skate park and kids play area before you hit the sand. Sans pooch, board and children? Or have all of the above in tow? This is an absolutely beautiful beach to walk post burger feast.
8. Beach Domain
Approx. 4-minute Drive from BurgerFuel Napier
What better way to view the ocean than from a viewing platform! Situated off Marine Parade and stretching out over the beach, you get the best of both worlds as you gaze from above at where the sand meets the sea and where burger meets the mouth.