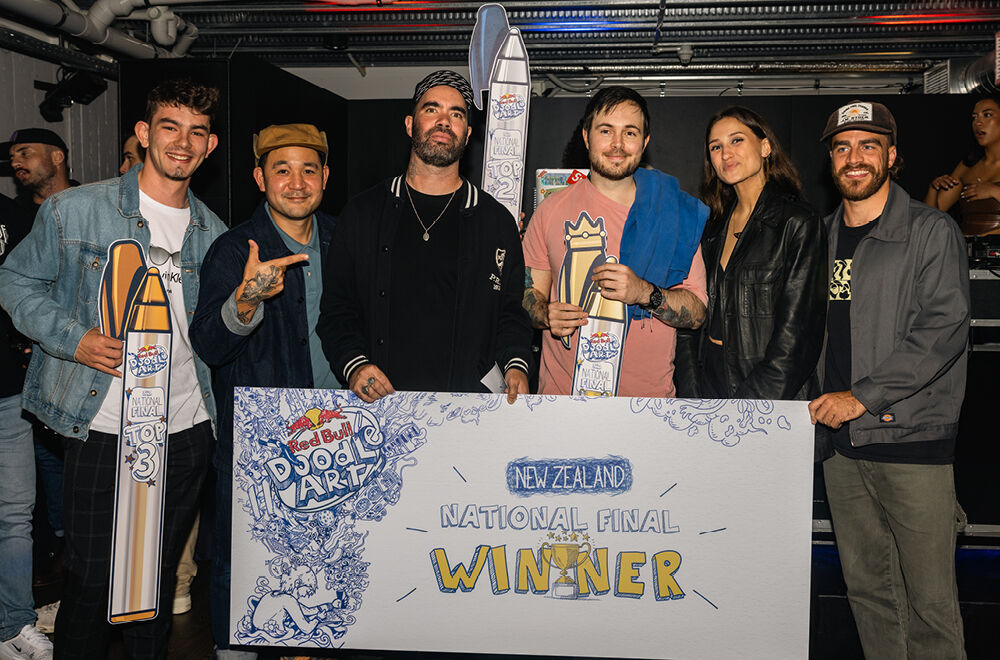 Posted by Creative, Sweet
In the midst of our conversion into the digital era, we sometimes find ourselves on the edge of the fence, gazing over the paddocks trying to determine which grass is greener. The digital era brings with it, a huge amount of advantages, but it lacks human behaviour, and no amount of AI can render a doodle based on the life of a "I'm not going to wait till the last day" student attempting to do a semesters work on the last day.
New Zealand's 21 finalists including a BurgerFuel wildcard entry
The heavy weighted lines of an unsharpened pencil and the mental projections that take place on the back of your art history paper always seem to manifest into a body of work that even we begin to question "what was I thinking". But we think these are worth acknowledging, and even better, worth celebrating, Red Bull NZ along with 60 other participating countries cast their net wide as they aimed to pull in some of the worlds best doodlers in an attempt to filter out one winner from each country and award them the epic prize of a trip to Amsterdam. Aimed at students and emerging creatives, Red Bull NZ set up activations across multiple Universities and ran several doodle workshops hosted by Berst and Haser as well as Finn Gerry Wilson and Emma Jane Ormsby. Onsite at these workshops, the creativity and banter was paired well with ice cold Red Bull and a side of BurgerFuel's finest gourmet mini collection.
On the 14th April, Red Bull NZ hosted a night for a selection of artists, plucked as their top picks from a pool of 500+ entries at University of Auckland's bar, Shadows. Along with the artists, friends and family were present as they patiently awaited the judges decision on who would be crowned the Red Bull New Zealand Doodle Art champion. Four judges from multiple disciplines, Berst, Finn Gerry Wilson, Emma Jane Ormsby and BurgerFuel's Creative, Sweet founder Haser were present as they viewed, assessed and scored each of the 21 submissions, including a BurgerFuel wildcard submission. As the night went on, Red Bull beverages and BurgerFuel burgers kept the contestants and their entourages entertained as they patiently and anxiously awaited the announcement of their champion. Finally, at 9pm the judges score cards were in and Red Bull NZ had found their top 3 doodlers, but only one would be going to Amsterdam. The scores were close but the judges decisions would determine the outcome, with Ben Hunter occupying the third spot and James Field coming in second, only 2 points behind the grand winner. The crowd was silent and the hearts of the contestants were beating like an untuned engine, finally our BurgerFuel Creative, Sweet representative Haser took the mic and ended the crowds anticipation as he announced Jesse Leonard as New Zealand's Red Bull Doodle champion and New Zealand representative as he takes his doodle too Amsterdam to compete on a global level.
Red Bull New Zealand champion Jesse Leonard with his winning entry
The international Red Bull Doodle Art final will be held in Amsterdam from May 25 to May 28, and includes the top doodlers from 60 countries across the world.
Red Bull Doodle Art judges and winner. From left to right Berst, Haser, Jesse Leonard (winner), Emma Jane Ormsby, Finn Gerry Wilson