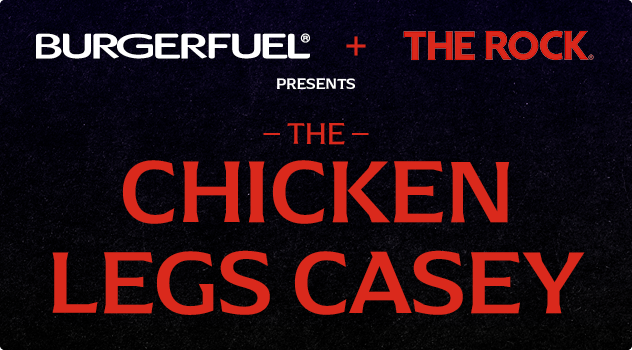 The Rock FM's Morning Rumble crew hit up BurgerFuel after presenter Bryce Casey's homemade burger creation didn't quite make the cut in their 'Battle of the Burgers' Instagram Story comp. We thought it had legs, so we've teamed up with them to bring it to life, for a limited time only.
Presenting the Chicken Legs Casey burger, brought to you by BurgerFuel.
Crispy buttermilk free range fried chicken with a jalapeño and corn crumb, is sandwiched between slices of cheddar cheese, with pickles, crisp hand-torn iceberg lettuce and red onion stacked in a wholemeal bun and finished off with spicy Sriracha sauce and creamy BurgerFuel Aioli.
$1 from every Chicken Legs Casey will be donated to legendary Kiwi charity, I AM HOPE, in support of mental health awareness and promoting positive attitudinal societal change around mental health.
This limited-edition fried chicken delight is available at all stores nationwide, until Gumboot Friday, 5th November. Purchase online or via phone if you're living the Level 3 life, or leg it in store at Level 2.
To read more about the measures we are taking in-store to prioritise the health & safety of our staff and customers, head to burgerfuel.com/covid-19
PS: Make sure you tune in to the Morning Rumble between 5:30am – 10am weekdays and get in on their listener giveaway - send a pic of you and the burger to the Morning Rumble's Facebook or Instagram to go in the draw to win a years' worth of BurgerFuel!